Ukraine politicians, former head secret service and militia allegedly involved in art robbery the Netherlands
by
Ukraine former head of SBU, a leader of extreme right Ukraine political party and a militia leader are involved in an art robbery. Their role is so far unknown. It shows the corruption in Ukraine and could add a piece of the puzzle on MH17.
To be able to solve a crime you need context, evidence, a motive and lots of information. A good detective is also unbiased and only interested in truth finding. These are all pieces of a puzzle.
This applies to MH17 as well.
So far we hardly have evidence which helps to understand what happened. We know MH17 was shot down. According Dutch Safety Board by a BUK missile. Despite all intelligence like satellites the public does not know who did it.
To understand more about circumstances, possible culprits and motives we need to know more about Ukraine.
At December 7 2015 information was published about very old and expensive paintings stolen from a Dutch museum. The paintings are in the hands of an Ukraine militia leader named Borys Hoemenjoek(also written as Borys Humeniuk ) . The deputy leader of the Organization of Ukrainian Nationalists  OUN, told a detective his militia found the paintings in a villa belonging to people in the inner circle of former Ukraine president Janoekovitsj. The villa was located in Eastern Ukraine. The detective found this story not very reliable.
Ukraine has severall voluntary army's. These militia's are officially under control of the Ministry of Internal Affairs. However the people serving in the militia's are not well paid or not paid at all. They do ot get supplies are are left on their own by Kiev. Some are sponsored by oligarchs. For example by Ihor Kolomoyskyi
Hoemenjoek was fired a while ago (around March 2015) . According the current leader of the OUN because Hoemenjoek could not be trusted. He stole from other militia members. For example a car. The current leader was not surprised that Hoemenjoek was suspected to be involved in art robbery.
The militia is controled by Oleh Tyahnybok, leader of extreme right party  Svoboda. Also the post-EuroMaidan  and now former head of the Ukraine secret service SBU,Valentyn Nalyvaichenko  is likely to be involved in the selling of the paintings.
Some like Dutch newspaper Trouw suggest Hoemenjoek never was a figher. However there are various photos indicating he was a soldier.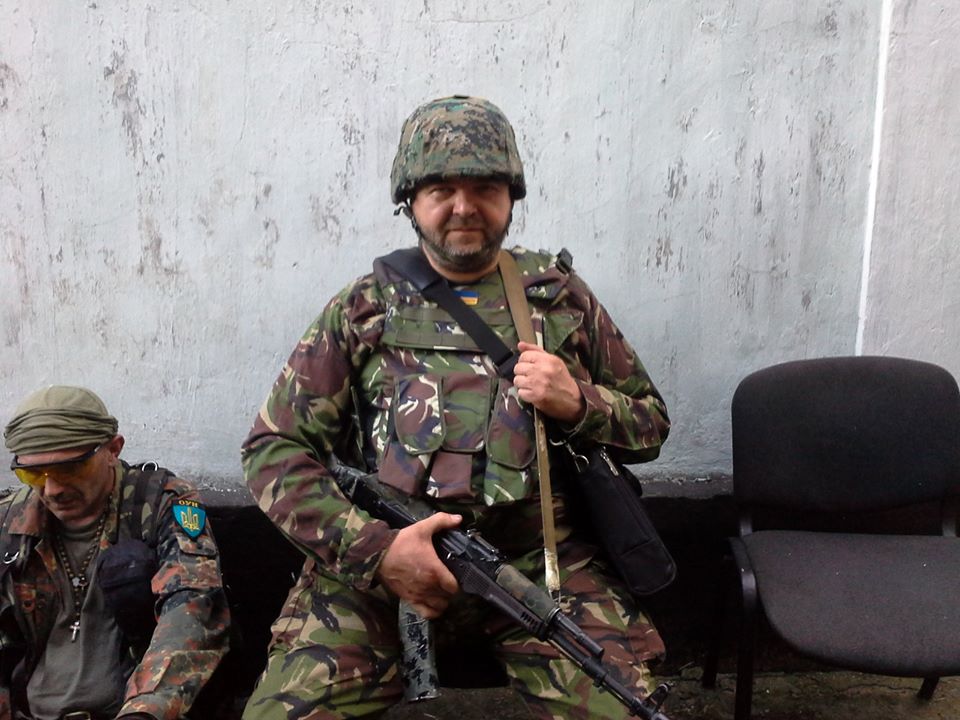 Borys Humeniuk claims he does not know Oleh Tyahnybok. However both are seen standing next to eachother in this photo.
Nalyvaichenko has been twice head of the Ukraine Secret Service. First from December 2006 till March 2010.  His second time was from February 2015 till June 2015.  Nalyvaichenko´s allies are Oleh Tyahnybok, Dmitry Yarosh, Andriy Parubiy and Semen Semenchenko.
In this article it is stated that Borys Humeniuk had mentioned the name of Nalyvaichenko during a meeting at the Dutch embassy. According Humeniuk Nalyvaichenko knew about the painting.
Brand suggests the meeting was taped on video.
Nalyvaickenko went to the United States in November 2015 to speak for the US Congress. This article provides some insights in relations between the current president and business man. Corruption all over the place. "Each and every place and every position close to Poroshenko is occupied only by people he can trust and only by people loyal to him" according Nalyvaickenko.
The Dutch minister of Foreign Affairs negotiated with Ukraine to get the paintings returned to the Dutch museum. So far without success. He believes the SBU is not involved in the art robbery.
This article about Nalyvaichenko makes clear he has friendly ties with Ukraine oligarches. The former  head of SBU made some remarkable statements in the past. In November 2014 he stated that terrorists wanted to attack a Dutch investigation team working on MH17. Later the Dutch government said there was not a single indication for that. Valentyn Nalyvaichenko in August 2014 stated the the pro Russian rebels intended to shot down an Aeroflot aircraft but made a mistake and shot down MH17 instead.
This article published by orientalreview.org is interesting. It described Finland did an investigation into Nalyvaichenko. In 1994-97 Nalyvaichenko worked for consular office of the Ukraine Embassy in Finland as second/First Secretary, Embassy of Ukraine in Finland, Denmark and Norway .He misused his diplomatic status for smuggling antiquities. 
When Valentin Nalyvaichenko, then the head of the Security Service of Ukraine (SBU), was in the process of being appointed the ambassador to the US in the spring of 2009, the Ukrainians decided to probe the attitude of the US State Department. Washington's answer shocked Kiev – American officials informed them that they possessed reliable data indicating that Nalyvaichenko had committed serious violations of Finnish law when he worked at the Ukrainian embassy in Helsinki. Using his diplomatic status, Nalyvaichenko had set up a pipeline for smuggling antiquities. With their customary attention to detail, the Finnish police recorded every fact in writing, which naturally they shared with their American friends. They requested that the matter not proceed any further. And now, given the exceptional nature of the US-Ukrainian partnership, the US State Department has recommended that Kiev not move the issue to an official level, i.e., that they not request agrément for the country's chief spy, suspecting that at the most inopportune moment this sensitive information might become public knowledge and have a fatal effect on the progressive development of their bilateral relations. But in fact, the CIA needed Nalyvaichenko for what Washington saw as a key post – as head of the SBU. So there's the story.
In april 2015  Nalyvaickenko stated that the Russian FSB was involved in the Maidan killing.
In June 2015 current president Petro Poroshenko submitted to the Verkhovna Rada a draft resolution on dismissal Valentyn Nalyvaichenko as Chairman of Ukraine's SBU security service.At June 18 2015 Nalyvaichenko was dismissed by the Ukraine parliament.
There are more indications for criminal operations by Ukraine right-wing. For example the mysterious sniper attacks on Feb. 20, 2014, that slaughtered both police and protesters in Kiev's Maidan square, with the violence immediately blamed on President Viktor Yanukovych. It is very likely extreme right-wing elements were responsible for the shootings.
Robert Parry, a well respected critical US journalist, reported that sources within the US secret service had stated that rogue elements were responsible for downing MH17.
In November 2015 powerlines were knocked down providing electricity to Crimea. The leadership of both the Crimean Tatars, forced into exile by Russia, and a right-wing nationalist group, Right Sector, endorsed the destruction without claiming responsibility. The Ukraine government was not happy at all with this sabotage.
Another example are the leaks published by Ukraine Censor.net showing pictures of the MH17 investigation. Like X-rays, and the cockit reconstruction.
It shows there are various military forces active in Ukraine which are rogue meaning not under a central control by Kiev. There are many relations between business people, politicians, oligarchs and militia's. This Kievpost article provides some insight.
At december 8 Minister of Foreign Affairs of Ukraine responded. In short he regrets that the Dutch museum started negotiations with people holding the paintings instead of contacting the Ukraine authorities like police. (source). Klimkin is afraid this news will have a negative effect on the Dutch referendum due on April 6.
Arthur Brand, the Dutch detective who had talks with people having the paintings, stated at December 9 that from the start there has been contact with Ukraine authorities. Klimkin was informed at September 9 about the situation. (source)
At December 9 Ukraine TV Hromadske had a discussion with detective Brand and Borys Humeniuk. Humenik is interviewed here and states he wants to sue Brand.
At December 11 the National Police invited the Dutch police to come to Ukraine and help recovering the paintings.
Сomment by the chief of the National Police of Ukraine Khatia Dekanoidze regarding paintings

at december 12 BBC Newsnight aired an item on this subject. Watch it here.
To get an impression of how the Ukraine parliament operates see this video. Fighting is not uncommon in the Rada.

Dutch state news NOS reported about the art robbery here. Dutch RTL Nieuws has a report here.
The Telegraph has the story here.
Telegraph published at December 15 an additional story about corruption in Ukraine. A quote from the article reads:
As corruption allegations have become a daily occurrence in Ukraine, even Ukraine's biggest supporters in the US government have now expressed disappointment with the pace of reforms. US vice president Joe Biden last week warned the country's leaders to get their act together or face losing international support.
This is a video of a fight between Avakov and Saakashvili with english subtitles. Avakov throws a glass of water .
by