SBIRS: Was John Kerry right and did the US see the BUK missile launch? And what could other satellites detect?
by
Key evidence to determine where the BUK missile was launch from and what route the BUK vehicle took is intelligence gathered from United States owned satellites.
So far this info has not been released by the US government. Just two persons of the Dutch Safety Board have seen satellite data which confirmed the conclusion of DSB that MH17 was shot down by a BUK missile.
This post will provide an detailed look into the capabilities of  US "spy-satellites'  like SBIRS and KeyHole. And will also explain about the capabilities of commercial satellites.
The conclusion is that it is almost certain that the US has satellite photos showing either BUK systems driving or positioned in the area. It is also very likely the US has obtained intel based on the radar guidance of the BUK missile.
Depending on the cloudbase the US might have infrared data indicating the launch point and trajectory of the missile for as long the missile had fuel to power the engine.
Special thanks to Marco Langbroek of SatTrackcam. This is a website which tracks satellites. Marco helped me a lot with info I used in this blogpost!
Marco wrote a great blogpost about this subject. His position paper for the Parliament hearing on MH17 at January 22 can be read here.
Dutch newspaper AD wrote an article about what satellites could have detected at July 17. The image below is part of that article.
Dutch TV programme EenVandaag had an interview with Marco Langbroek. See the item below.

Introduction
The United States has advanced satellites which can make detailed photos and are able to detect missiles as soon as they are launched.
However the US did not release any information to the public which can point a finger to the persons or state responsible for this criminal act.
John Kerry, minister of foreign affairs of the United States, stated on Sunday July 20 2014
"We know because we observed it by imagery that at the moment of the shootdown we detected a launch from that area," he said. "Our trajectory shows that it went to the aircraft." (The Guardian)
The final report of DSB published at October 13 included the text shown below. The text below is part of the appendix called  About the investigation and is displayed at page 66.
Fred Westerbeke, chief prosecutor and coordinator of the criminal investigation into the plane crash told Dutch daily NRC at December 19:
"Satellite images showing how on July 17 flight MH17 over Ukraine was shot out of the sky by a rocket do not exist. There has been a misunderstanding about this. There are no satellite images in the sense of a movie where you see a rocket going into the air. There is no conclusive evidence from intelligence services with the answer to all the questions."
So let us have a look at what type of satellite could have detected the launch and trajectory of the missile. We will also explain the characteristics of those so-called SIGINT (or spy) satellites.
There are two types of satellites operating for the United States :
those who make very detailled ordinary photos (optical)
those equiped with  infra red  and radarsignal detection sensors
There are many  types of satellite orbits. The commonly used orbits are:
Geostationary. A geostationary orbit is when the satellite appears stationary when viewed from Earth.
Highly Elliptical Orbit. The satellite is moving in an eclispe trajectory.
Low-earth orbit (LEO). a satellite revolve around earth is an orbit with an altitude between 160 kilometers and 2,000 kilometers . Spy satellites like the Keyhole serie use LEO as they are able to see the surface of the Earth more clearly as they are not so far away. They are also able to traverse the surface of the Earth.
Optical satellites (camera)
The United States has a remarkable limited number of satellites operational which are able to make detailled photos. There are far more commercial satellites in orbit.
The US has two families of satellities which primary mission is to make photos:
KH-11 and KH-12 series
ORS-1 (named of satellite is USA 231)
KH-11 and KH-12 (Kennan or Keyhole serie) are known series of military satellites used for optical monitoring. The KH-12 serie is said to achieve a resolution of 2+ cm, although images of this sharpness haven't been released. The US in 2014 had four KH-12 satellites in orbit. Currently there are just three. Thr KH-11 does not make constant photos. It can be remotely controlled to make photos when the satellite is over an area of interest.
The names of KH-11 satellites active are USA 161, USA 224, USA 245 and  USA 186. USA 161 was removed from it's orbit around January 2015 and is not operational anymore.
The USA 231 of type ORS-1 has a resolution of 1 meter. Much worse resolution than many commercial satellites.
The exact capabilities like resolution of the KH-11 and KH-12 are unknown. The declassfied KH-9 spy satellites had a resolution of 0.6 meter  to nearly 1 meter and were launched between 1971 and 1986. Now for technology that is like in the Middle Ages. For sure KH-12 has a better resolution than the most advanced commercial satelittes which have a resolution of 0,25 cm.
The features of satellites used by the United States are constantly improving. A generation of satellites which uses the same architecture are enhanced in so called blocks. For example there are 16 satellites in the KH-11 type in four blocks.
Another type of spy satellite is the Lacrosse. The first  was orbited in 1988; Lacrosse-4 launched in 2000. The speculation is that this radar can achieve 1 meter or better resolution. Lacrosse-4 is out of service. Lacrosse 5 is the only active satellite of the Lacrosse type.US also has 3 satellites of the Future Imagery Architecture ( FIA-Radar) type active.
Other types of spy satellites  are MENTOR (ORION)  MERCURY  and TRUMPET-Follow On all in a geostationary orbit . These are all SIGINT satellites which means they ' listen'  to communications like cell phones.
Could an American spy satellite have photographed the BUK TELAR system
Technically a KH-11 satellite is able to make such a detailed photo that a BUK TELAR can be recognised in the photo. But was one of the KH-11 satellites near enough at July 17 2014 ?
The image below kindly provided by Marco Langbroek of  SatTrackCam  shows the location of KH-11 USa 161 at 13:20 UTC being the time MH17 was shot down. The image clearly shows MH17 was in the field of view.
The table below shows the position of all   KH-11 satellites on July 17 2014 during daylight with a view on Eastern Ukraine. This is a selection of all passages that day of passages higher than 10 degrees as seen from MH17 crash site.
As the morning till around 12:00 local time was almost blue with hardly clouds at at least 4 occasions a satellite is likely to have been able to detect a BUK. As said, KH-11 satellites do not constantly make photos. However as Eastern Ukraine was in war it is very likely the US Armed Forces were interested in what happened at the ground.
-----------------------------------------------------------------
 Date/Time UTC      Satellite             Elv    Z.Azm Z.Elv
-----------------------------------------------------------------

 2014-07-17 04:40:42 USA 186 *            15.4   87.7  27.1
 2014-07-17 06:16:47 USA 186 *            46.4  107.2  42.9
 2014-07-17 07:10:36 USA 245              37.2  121.2  51.0
 2014-07-17 08:46:34 USA 245              26.4  157.6  61.6
 2014-07-17 11:14:13 USA 224              60.4  226.4  56.1
 2014-07-17 11:49:19 USA 161              35.5  237.8  51.5
 2014-07-17 13:20:37 USA 161              13.4  260.3  37.3
 2014-07-17 15:33:49 USA 186 *            25.9  284.9  15.3
 2014-07-17 16:32:56 USA 245              13.8  295.3   6.1 
(2014-07-17 17:08:53 USA 186 *            65.7  301.8   1.1) 
*  passages of USA 186 are less certain to be at the exact position as indicated in the table above. Data is missing required for tracking this particular satellite. However USA 186 must have passed +/- 1 hour over the indicated position.
Elv  =  max altitude satellite in degrees as seen from MH17 crash site
Z. Azm = azimuth sun (degrees from North) 
Z. Elv = altitude sun (degrees)
Commercial satellites for imaging
Not many current photos of KH-11 or KH-12 satellites photos are available. But the  photos made from satellites operated by companies provide a good indication. Three companies which sell and/or operate satellites for commercial purposes are DigitalGlobe,  GeoEye Imagery and  ImageSat. Satellites used are the  QuickBird, WorldView-1 (0,5 m resolution for civilian use) ,WorldView-2 (0,5 m resolution for civilian use),  WorldView 3 (0,3 meters resolution ), IKONOS, GeoEye-1 (0,5 m resolution for civilian use) and EROS-B (a satellite with 0.70 meter panchromatic resolution).
Other examples of satellites are the SPOT 5 (10m, 5m, and 2.5m), SPOT 6&7 (6m-1.5m), Pleiades (2m-50cm), and TerraSAR (40m-25cm) owned and operated by Airbus Defense and Space.
This is a great example of the capabilities of the GeoEye-1 satellite.
The photo below was taken from the WorldView-3 satellite. Worldview-3 has the one of the best resolutions (30cm) available for civilian usage.
25 cm imagery from the TerraSAR satellite is the highest resolution imagery that is commercially available, and GeoNorth is the only commercial provider in the market today capable of meeting such needs.
This is another image of the WorldView-3 satellite. It shows Pont de Arts bridge in Paris.
The  image below was taken by the PLEIADES satellite having a resolution of 50 cm. Type of the fighter aircraft is very easy to determine.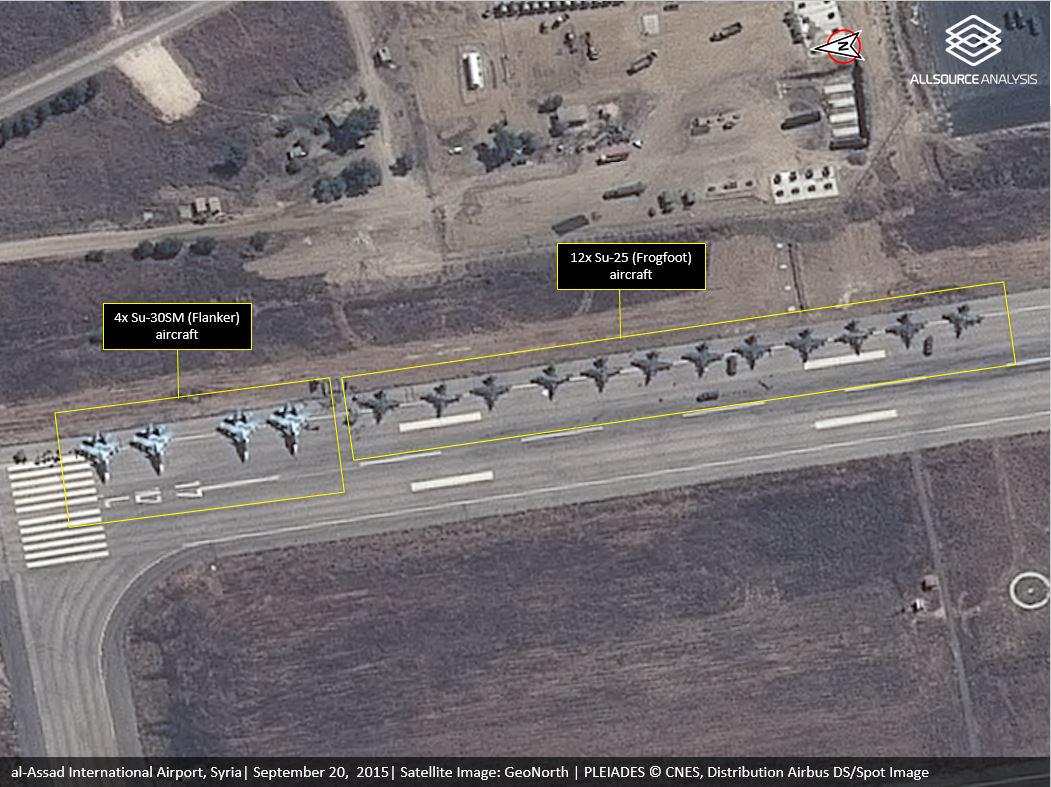 This is another  photo made by the Pleinadus 1A satellite having a resolution of 0,5 meters.
This link will shows a photo taken by Quickbird satellite with a resolution of 0,61 cm
This links shows a photo taken by IKONOS satellite with a resolution of 0,8m. A BUK could be detected but more difficult.
While we do not know the postition of all satellites above Eastern Ukraine on July 17, the satellites do have the capability to detect a BUK Telar driving on a blue sky morning.
Bellingcat purchased a satellite picture taken at July 17 at 11:08 local Ukraine time by DigitalGlobe. Bellingcat could not detect the BUK vehicle on the satellite photo. This was either because there was no BUK driving around. Or because the BUK was driving in an area out of sight for the GeoEye-1 satellite.
From the DigitalGlobe catalog we know that the Worldview-1 and GeoEye-1 satellites passed over Eastern Ukraine at July 17.
Bellingcat purchased a photo from Digital Globe. The photo was made by the GeoEye-1 satellite at July 17 at 11:08 AM local Ukraine time (08:08 GMT). The ID of the photo is  105041001104D000
Could a commercial satellite have 'spotted the BUK somewhere enroute or at the launch location?
The table below shows the passages of commercial satellites at July 17, 2014 in daylight conditions and a elevation of minimum 20 degrees.
All satellites with a resolution of 0,6 meters or better are marked in bold. This means those satellites have such a resolution sufficient to clearly detect a BUK TELAR vehicle. If a BUK was in the field of view of the satellite is not known.
All satellites marked in bold are operated by US or European organizations.  The only two satellites operated by Russia are Resurs P1 and Kanoplus-V 1
The photo of GeoEye-1 showed a part of Eastern Ukraine but not all.
---------------------------------------------------------------------------
 Date/Time UTC       Satellite            Elv   Z.Azm Z.Elv resolution in meters
--------------------------------------------------------------------------- 

 2014-07-17 07:19:44 IKONOS 2             20.1  124.0  52.3 0,8
 2014-07-17 07:21:27 SPOT 5               58.5  124.5  52.6 2,5
 2014-07-17 07:35:03 SPOT 6               49.9  128.8  54.4 1,5
 2014-07-17 07:35:57 QUICKBIRD 2          44.5  129.1  54.5 0,6
 2014-07-17 07:54:20 WORLDVIEW 1          36.7  135.6  56.8 0,5
 2014-07-17 08:01:16 PLEIADES 1B          46.0  138.2  57.6 0,5
 2014-07-17 08:09:37 GEOEYE 1             54.8  141.4  58.4 0,5 * purchased by  Belingcat
 2014-07-17 08:15:23 WORLDVIEW 2          48.8  143.8  59.0 0,5 
 2014-07-17 08:32:43 RESURS P1            56.5  151.2  60.6 0,7 Russia operated 
 2014-07-17 08:40:49 KANOPUS-V 1          89.4  154.9  61.2 2,5 Russia operated 
 2014-07-17 08:50:35 PLEIADES 1A          63.6  159.5  61.8 0,5
 2014-07-17 08:57:19 IKONOS 2             52.3  162.7  62.2 0,8

Till at least 09:00 GMT the weather was almost clear with no clouds 
 
 2014-07-17 09:01:16 SPOT 5               24.6  164.7  62.4 2,5 
 2014-07-17 09:12:24 SPOT 6               23.3  170.2  62.8 1,5 
 2014-07-17 09:38:40 PLEIADES 1B          24.9  183.7  63.0 0,5
 2014-07-17 09:46:33 GEOEYE 1             21.1  187.7  62.9 0,5 
 2014-07-17 09:54:09 WORLDVIEW 2          26.4  191.5  62.7 0,5
(2014-07-17 17:08:11 SPOT 5               22.9  301.7   1.2) 2,5
Dutch RTL did an investigation using public available satellite images. The conclusion was a field south of Snizhze was changed between July 5 and July 21 2014. Probably a small area was ploughed or burned.
Detailed photos of this area taken at July 17 or July 18 were made not available by United States. It could easily prove when the field was burned.
Space-based Infrared System (SBIRS)
SBIRS main mision to an early detection of a launch of a hostile missile by using infrared sensors. It is able to detect the launch location as well as to predict the impact point of the missile. But SBIRS is used for non military missions as well. The system can for instance also be used to help direct firefighters to concentrate their resources because it can show areas of the worst hot spots in burn zones.
Lockheed Martin's space based infrared system (SBIRS) is an early warning defence satellite system being developed for the US Air Force Space Command (AFSPC). It is a constellation of geosynchronous earth orbit (GEO) satellites, highly elliptical earth orbit (HEO) payloads, and ground processing and control systems.
The programs for this kind of satellites are:
Defense Support Program (DSP) satellites. DSP is being replaced by SBIRS
Space Tracking and Surveillance System (STSS) (formerly known as SBIRS Low)
SBIRS Geosynchronous Earth Orbiting (GEO) satellites (factsheet)
SBIRS Highly Elliptical Orbit (HEO) sensors.
The SBIRS program is said to be 60% faster and twice as accurate as the existing Defense Support Program satellites, of which there are 22.
SBIR satellites are very good at detecting ground to ground missiles balistic missiles. However it is confirmed they are also able to detect smaller surface to air missiles (SAM).
SBIR satellites are able to detect the heat signature of the missile exhaust. Each type of missile has exhaust. The combination of intensity of temperature, duration of the heat and distribution of heat is a unique signature and will tell something about the type of missile
The SBIRS HEO sensors are installed in SIGINT satellites used for listening to communications (like cellphones) USA 184 and USA 200 are operating as host for SBIRS sensors. These two satellites are likely capable of detecting radar signals sent out by BUK TELAR or missile guidance vehicles.
A surface to air missile is guided by radar from the ground almost during the complete trajectory towards the target.
The SBIRS satellite uses infrared sensors to detect the heat exhaust of the missile. Water vapour obscures infrared, which means the cloud cover at July 17  might have blocked detection of the initial launch phase of the SAM. Also sunlight is reflected by clouds which can disturb the vision of SBIRS.
The SBIRS program is managed by the Remote Sensing Systems Directorate at the U.S. Air Force Space and Missile Systems Center, Los Angeles AFB, El Segundo, California. Lockheed Martin Space Systems Company, Sunnyvale, California is the SBIRS prime contractor, and Northrop Grumman Electronic Systems, Azusa, California, is the payload integrator. The 460th Space Wing at Buckley AFB in Aurora, Colo , operates the SBIRS system.
The 460th detected 403 missile events in 2014, versus 193  through July 2015. However, while SBIRS operators worked about 8,000 IR events from the SBIRS mission control station at Buckley in all of 2014, they had already worked 7,000 such events through August 2015.
The SBIRS satellite system
In less than 10 sec., every point on the face of the Earth is imaged by the U.S. Air Force's SBIRS satellites!
When fully deployed, SBIRS will consist of four dedicated satellites in geosynchronous orbit and two infrared sensors hosted aboard classified satellites in highly elliptical orbit. Each satellite has two main sensor capabilities: a scanner that sweeps across wide swaths of territory and a starer that maintains constant surveillance of a smaller area for more-timely warning of missile launches.
As far as publically known the United States has 5 SBIRS satellites operational:
SBIRS GEO 1 (USA 230) (2011-019A) geostationary orbit launch date 7.05.2011
SBIRS GEO 2 (USA 241) (2013-011A)geostationary orbit
SBIRS HEO3 (checkout May 2015) highly elliptical orbit over the northern hemisphere. Launched 2014
USA 184 (2006-027A) in HEO equipped with SBIRS sensors (not a dedicated SBIRS satellite)
USA 200 (2008-010A)  equipped with SBIRS sensors (not a dedicated SBIRS satellite)
In June 2015, it was decided, that SBIRS-GEO 5 and 6 will be built
An artist's concept depicts a notional constellation of DSP, SBIRS GEO and SBIRS HEO platforms. Credit: Lockheed Martin
The video shows the diferrent orbits of Defense Support Program (DSP) satellites.  The orbits can be compared to SBIR satellites. The source of the video  is unknown
SBIRS sensors
SBIRS satellites are equipped with two types of sensors installed in Short Schmidt telescopes :
a scanning sensor
a staring sensor
The scanning sensor performs observation and surveillance of intercontinental ballistic missile targets, while the staring sensor detects the short burn time theatre missiles of very low signature.
The GEO infrared payload consists of two sensors; a scanner and a step-starer. The scanning sensor continuously scans the earth to provide 24/7 global strategic missile warning capability. Data from the scanner also contributes to theater and intelligence missions. The step-staring sensor, with its highly-agile and highly-accurate pointing and control system, provides coverage for theater missions and intelligence areas of interest with its fast revisit rates and high sensitivity. The HEO sensor is a scanning sensor, with sensor pointing performed by slewing the full telescope on a gimbal. Both the GEO and HEO infrared sensors gather raw, unprocessed data that are down-linked to the ground for mission processing. The GEO sensors perform on-board signal processing and transmit detected events to the ground, in addition to the unprocessed raw data. (source)
This website provides a wealth of declassified information on the DSP program ( SBIRS is replacing DSP).
This document in particular provides a good insight into the working of DSP including diagrams.
The staring sensor can locate and report dim (object not emitting a lot of heath) targets not detectable by the traditional scanning sensors on DSP and SBIRS GEO satellites.
The text below was copied from this site:
SBIRS GEO-1 carries a scanning sensor similar to, but more agile than, the already-deployed SBIRS HEO sensor, and a staring sensor. The scanning sensor will generally provide global surveillance, with the staring sensor intended to interrogate areas of interest around the globe with even more enhanced sensitivity and revisit time. Support to the theater missile warning mission, missile defense mission, technical intelligence mission, and the evolving battlespace awareness mission area, were the drivers for design of the GEO staring sensor. As a result, it will provide very fast re-pointing ability, high sensitivity, and small revisit time for areas of interest, as well as for tracking dim ballistic missiles to booster burnout. The staring sensor will also provide a mode of operation that allows it to continuously stare at a site with very high refresh rate, as well as flexibility in spectral band selection. Enhanced sensitivity and revisit time from the SBIRS sensors bring opportunity for earlier detection of missile launches, higher confidence detection of new dimmer and shorter-duration events, and more accurate estimation of missile trajectory parameters.
The STSS satellites
Space Tracking and Surveillance System (STSS) is similar to the SBIRS program. However STSS satellites are in a low earth orbit. The perceived advantage of STSS is that its satellites, by operating at a lower altitude and by using long- and short-wave infrared sensors, will be able to acquire and track missiles in midcourse and during the boost phase
The former name of STSS is SBIRS Low.
STSS's ability to track dim objects that have extremely short flight timelines. USA-205 is a known satellite in the STSS program.
The more sensitive the censor of the satellite sensing system, the more noise it will produce. Think about forest fire, gas fires in oil fields, bomb explosion or plane crash . also a launch will be for a short time. For this reason data is recorded and then analysed. This takes time.
How does a SBIRS infra red photo look like
The United States did not release many photos taken by SBIRS satellites. The photo below  is a rare example of such a release and shows a Delta IV M rocket lauched at November 4th 2006 caputed by the USA-200 satellite.
This is not a single picture. The photo below is a result of about 100 seconds of exposure.
basically SBIRS produces two types of output which is sent to earth:
raw data analysed by computers on the ground
on-board signal processing (these are probably photos)
Both the GEO and HEO infrared sensors gather raw, unprocessed data that are down-linked to the ground for mission processing. The GEO sensors perform on-board signal processing and transmit detected events to the ground, in addition to the unprocessed raw data.
Software is used to analyse the data provided by the sensors. Data captured by the SBIRS satellite is transmitted to the mission control station at a rate of 100mbps. All data received from the sensors  is recorded and then analysed by computers. These computers uses robust clutter rejection algorithms. These must filter out the noise caused  by clouds, terrain features, aurora, stratospheric warmings, temperature inversions, and polar mesospheric clouds that may obscure missiles.
The picture below is displayed at fas.org. This website has a detailled description on infrared.
So SBIRS is no a kind of digitial camera which makes each second an infrared photo and sends it to earth. Lots of computing power is used to analyse the raw infrared data and make sense of the data such operators can interpret it. Computers are especially used to calculate the impact point of a detected missile.
Work in the "battlespace awareness" mission for satellite infrared data can take hours today, but that is shrinking quickly thanks to computing advances.
However there must be a way for operators to quickly detect a launch of at least a ballastic missile has this is the main mission of SBIRS. It does not make sense to know that a ballistic missile was launched after it has exploded.
Operators must react within seconds of a launch to inform U.S. Strategic Command and alert missile defenses. (source)
"The SBIRS space segment, including the GEO satellite and HEO sensors, can provide continuous wideband data that can be viewed as movies of events on Earth. (source)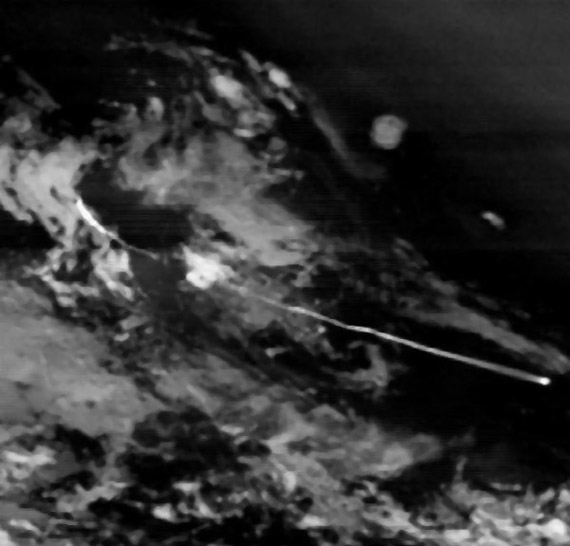 The image below was published by Aviation Week. The caption of the photo says:
Could  SBIRS have detected the BUK missile launch and trajectory?
To determine the possibility that SBIRS has detected the launch, trajectory and explosion of the missile these circumstances are important:
the cloud base at the time of the launch
the cloud base at the altitude MH17 flew when the missile approached and exploded near MH17
the heat exhaust of the missile
the location of SBIRS capable satellites.
Cloud base
As we have learned SBIRS can detect heat and radar signals. The weather over the crash site was cloudy at the time the missile was launched. The altitude of the highest clouds is unknown. We also know the duration of the BUK missile.
Very likely SBIRS picked up the exhaust of the BUK missile when it was flying above the clouds approaching MH17. Likely the launch was captured as well. At least the radar guidance signal was picked up and thus the location of the BUK which send out that signal.
Heat exhaust
This blog has a detailled description of the heat exhaust of the BUK missile. The author is very clear. SBIRS must easily have detected the missile by its exhaust.
It is likely the United States provided a trajectory of the missile based on its radar guidance signal.
Location of satellites with optical capabilities
We know that three SBIRS satellites were able to cover the area over Eastern Ukraine.
There are various tools on the internet available which allows us to track satellites. Of most military satellites the type of orbit is unknown. N2YO provides a  nice tracking tool. This page for example shows the actual location of the Worldview 3 satellite.
According to Marco Langbroke of satellite tracking website Sattrackcam:
" SBIRS GEO 1 (2011-019A) and SBIRS GEO 2 (2013-011A) in geostationary orbit and USA 184 (2006-027A) in HEO, had coverage of the area where MH17 went down at the time this happened" 
Let me remind you on some info on the data sent by SBIRS:
Both the GEO and HEO infrared sensors gather raw, unprocessed data that are down-linked to the ground for mission processing. The GEO sensors perform on-board signal processing and transmit detected events to the ground, in addition to the unprocessed raw data. (source)
As 2 GEO SBIRS satellites had a view on Eastern Ukraine they must have transmited  detected events to the ground.
This is another image which shows the three SBIRS satellite positions at the time of the crash. Three satellies were able to pick up the infrared signal of the BUK missile.
Image supplied by Marco Langbroek of Sattrackcam
The Siberia Airlines Tupolev 154 shot down
At October 4 2001 a Tupolev 154 aircraft operated by Siberia Airlines was shot down by an Ukraine missile. The missile was a S200 surface to air missile launched by the Ukraine Army during an excersise. Two missiles were shot at a drone. One missile destroyed the drone. The other missile re-targeted and went offcourse and hit the Tupolev which flew 250 km from the missile launch point.
New York Times reported.
Pentagon intelligence experts, relying on a global network of spy satellites that track missile launchings, have said privately that the jet almost certainly was downed by an SA-5 antiaircraft missile fired during a Ukrainian military exercise on the Crimean coast.
One American military official said satellite data unmistakably showed that a missile had veered off course and flown to the limit of its range before unleashing a fusillade of shrapnel-like steel balls at the jet.
Other SBIRS detections
To find the location and route of the missing Malaysia Airlines Boeing 777 MH370 SBIRS was used.
The crash of the Airbus A321 of Russian airline Metrojet was detected by SBIRS (link). Russia Today reports here:
Just before a Russian passenger airliner crashed in Egypt's Sinai on Saturday, a US infrared satellite reportedly detected a heat flash in the same vicinity, indicating that an explosion may have happened on board.

The US intelligence community believes that a fuel tank or bomb may have been the source of the heat signature, NBC News reported. The same satellite ruled out a missile attack, as it didn't detect a heat trail that a rocket engine would have produced, the channel's source said.
Does Russia or China have SBIRS capabilities?
It is interesting to know if Russia has SBIRS kind of satellites which could provide data. And if they have, what was the position of the Russian satellites?
As far as publicly known Russia does not have SBIRS capabilities anymore. In 2015 Russia started to lauch such a new familiy of SBIRS satellites. China likely does not have SBIRS capabilities but this is not known for sure.
Interesting sources
Sattrackcam Very interesting website!
A lot of declassified documents on SBIRS and DSP (link)
America's Space Sentinels: The History of the DSP and SBIRS Satellite System
http://space.skyrocket.de/doc_sdat/sbirs-geo-1.htm
http://www.wikiwand.com/de/Space-Based_Infrared_System
http://forden.armscontrolwonk.com/archive/2135/sbirs-heo-2-checkout-picture
https://www.nga.mil/MediaRoom/SpeechesRemarks/Pages/18th-Annual-Space-and-Missile-Defense-Symposium.aspx
by