Rosaviatsia Russia's Federal Air Transport Agency states DSB manipulated investigation
by
Oleg Storchevoy, deputy head of Russia's national aviation regulator Rosaviatsia , held a press briefing on Wednesday, October 14, in Moscow. He said  that Moscow categorically disagrees with the Dutch Safety Board's report on last year's crash of Malaysia Airlines flight MH17 in East Ukraine.
The pressconference can be seen here
On a personal note I believe this is another attempt to confuse and mislead. One of the reasons is that Rosaviatsia seemed not to have read the DSB final report. One of the Russian journalists asked how many attachments the DSB report had. The response of Storchevoy was: "I cannot answer how may attachments the report has, we haven't reviewed it in detail. So I will not answer" and "We didn't have to read it (the final report) in detail, we only got it yesterday"
"We do not refute or deny any versions. We believe that there is a need to conduct further studies to determine what the aircraft was struck by," Storchevoy said according to Sputnik news
"Russia will use the standard presented in annex 5.13 to the Convention on International Civil Aviation to initiate the resumption of the disaster investigation," Oleg Storchevoy told reporters
Alec Luhn, reporter in Moscow for The Guardian attended the meeting. Also Nataliya Vasilyeva of Associated Press attended the meeting. Below some of their Tweets. Also Tweets of Christo Grozev are included.
Some of the statements made by Rosaviatsia were :
Russian official claims Dutch told investigators #MH17 Buk had launched from "Schnitze," they misheard as "Snizhne"
Storchevoi denies that Russia calculated #MH17 launch site near Snizhne, as Dutch report says
#MH17 only gets more confusing. Almaz-Antey said yesterday it tested launch from Snizhne, Storchevoi says it tested launch from Zaroshchenke
Storchevoi complains again that "Russian experts" were not allowed to go to the crash site in eastern Ukraine
Storchevoi also contradicts Almaz-Antei saying MH17 was shot down by an older Buk, says they have not evidence to prove it was a Buk at all. "If it wasn't the missile the Dutch say, what kind was it?" Russian official: "We're continuing investigation"
Russian aviation chief Storchevoi (again) blames the Netherlands to not bothering to remove wreckage from Hrabove until November. Storchevoi: well, the OSCE were hanging around there all the time, why couldn't Dutch investigators come along?
Spanish news agency: "Is it your official position that the Dutch contaminated evidence?"
RossAviation: Absolutely yes. We have proof.
"Not a single proof of bow-shaped schrapnel"
RossAviation: "There is not a *single* hole in the plane's remains that shows a bow-tie pattern"
RossAviation: "The report includes a list of Russian inputs we gave in July. None of them were accepted, which we find unacceptable"
RossAviation: "The NL report is weak on facts, quality is not up to our standards"
RossAviation: Only if BUK came from Snizhne, our radars would have caught it. But not from Zaroshtenske. Maybe the Ukrainians caught it.
RossAviation: "We saw a photo of a weighed bow-tie fragment early in the investigation. It showed 5.5 g. Now it shows 6.1 g. Manipulated"
RossAviation: "Almaz Antey did not prove it was a BUK missile. They just calculated how it could have happened if it WAS a BUK"
Some statements made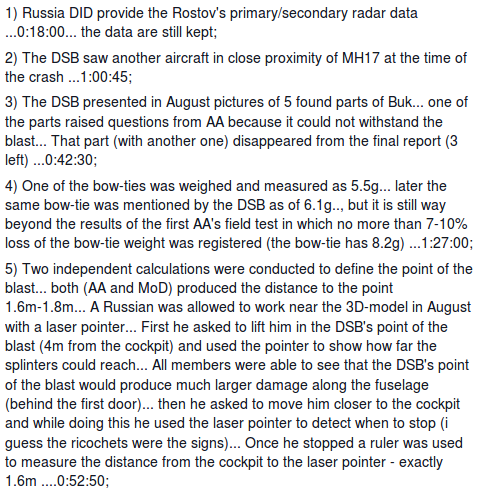 More info
http://news.rin.ru/eng/news///133811/
http://sputniknews.com/world/20151014/1028498849/Russia-MH17-Dutch-Report.html
http://bigstory.ap.org/article/e088dbecedff4cc9a95ecab641933599/russia-appeals-un-aviation-body-open-new-mh17-probe#
by