Pro-Kremlin activists park videoscreen showing disinformation in front of MH17 courtbuilding
by
Pro-Kremlin activists hired a car with a huge videoscreen showing disinformation in front of the MH17 courtbuilding near Schiphol. At Monday August 31 the trial continued after a pauze in summer. The lawyers defending the interests of the next of kin were planned to speak on Monday for the first time.
The videoscreen showed the various disinformation videos made by Bonanza Media, an alleged private intitiative by former Kremlin funded RT journalist Yana Yerlashova. She and Dutch blogger Max van der Werff showed a lot of nonsense in the videos they produced.
The parking of the videoscreen seems to be an initiative by the Dutch branch of  Global Rights of Peaceful People (GRPP). GRPP organized in the past a couple of screenings of Bonaza Media produced desinformation videos on MH17. Dutch media did not pay any attention to this but at almost every event a Russian journalist attended. Kremlin controlled state pressagency TASS published many articles on these events, even when just a few people demonstrated.
This was not the first time a videoscreen was positioned right in front of the courtbuilding. In early July 2020 Plotnivoka and her GRPP also placed a screen. Ukraine media reported here.
Little is known about the background of GRPP. It is not unlikely GRPP indirectly is funded by Russia. Questions about who is funding GRPP are not answered by Elena Plotnikova who represents GRPP in the Netherlands.
Plotnikova (blond, glasses) was near the videoscreen on Monday. She was accompanied by Madeleine Klinkhamer and an unknown man. The three are seen in this photo below published at Twitter by Plotnikova.
Klinkhamer together with Sander Compagner publishes a newspaper called  'De andere krant' which is full of nonsense about various topics. One of the editions was on MH17. Notorious MH17 truthers like Karel van Wolferen, Kees van der Pijl and Eric van de Beek wrote articles published in this edition. Both Klinkhamer and Compagner attented a GRPP organized screening of a Bonanza Media video in Scheveningen. On the day before the restart of the trial some people gave copies of 'de andere krant'  in The Hague.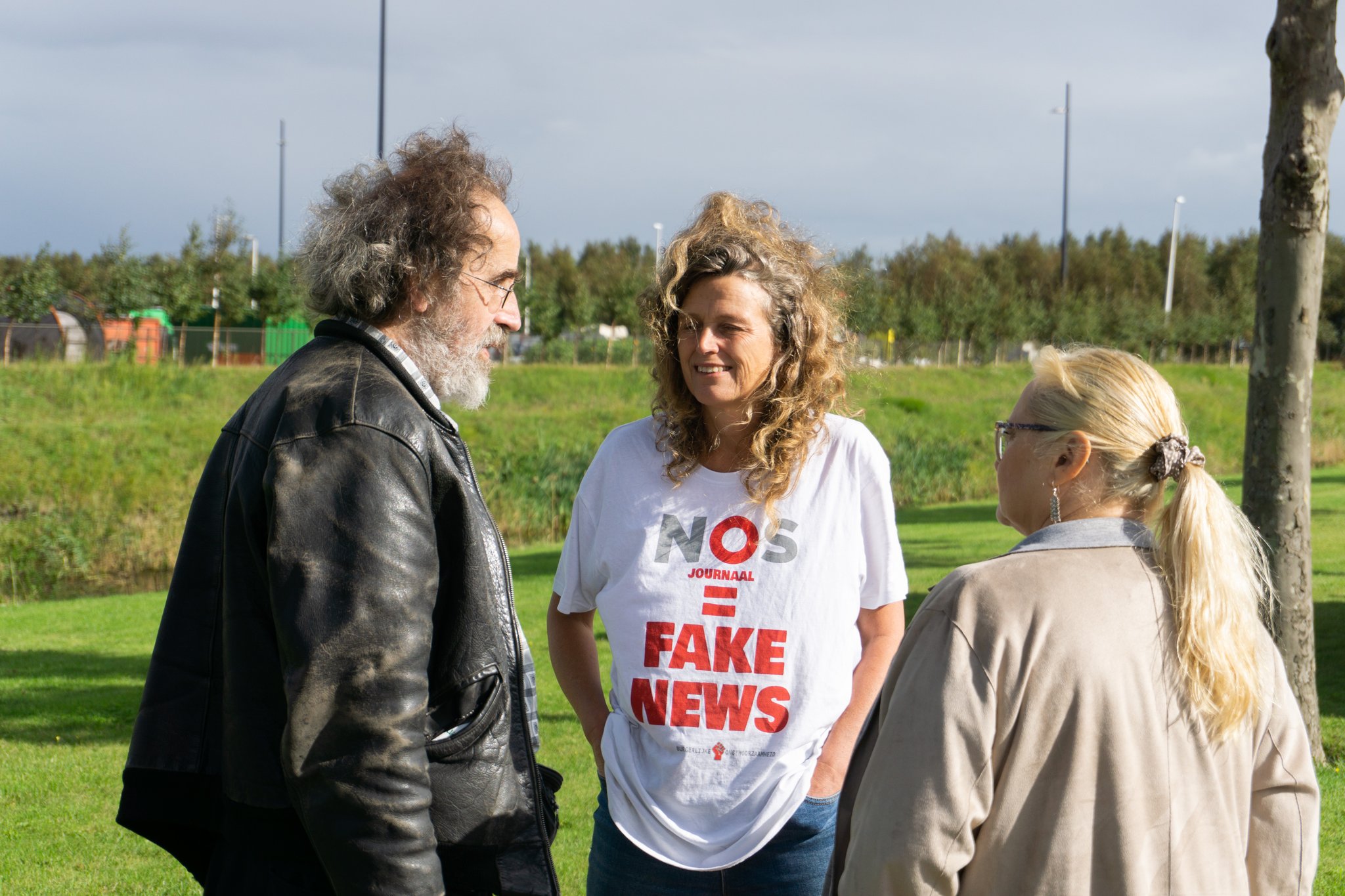 by