More nonsense from Pro Russians: Ukraine ATC directed MH17 under missile fire
by
Not for the first time separatists or Russian authorities stated something which is completely nonsense. By doing so the credibility decreases each and every time.
At a press conference at May 6 Andriy Purhin, the speaker of the self-proclaimed Donetsk people's republic (DPR) stated that
"Kiev-based air traffic controllers unlawfully handed over control of the Malaysia Airlines Flight MH17 aircraft to their Dnepropetrovsk colleagues before it was downed in the Donetsk region in July 2014. 
Also :
"We have recorded the fact of the Boeing's unlawful handover from Kiev-based air traffic controllers to Dnepropetrovsk ones. The control handover was not documented by Dnepropetrovsk, although this handover in fact took place. Then the Dnepropetrovsk-based controller changed the Boeing's course by three degrees and effectively directed it toward a battlefield. The plane so found itself within the engagement zone of Ukrainian Buk [surface-to-air missile systems]," Purhin told Interfax.'

A report of this press conference is published at the Russia Beyond the Headlines website.  Also Interfax reports on this.
This news has not been picked up by the Western Press. Only BBC reported about this pressconference at May 6. BBC writes
"Leading Donetsk official Andrey Purgin alleged that flight MH17 was illegally switched from an air traffic controller in Kiev to another further east who changed the plane's course toward an area with Ukrainian Buk missile launchers."
Nonsense!
The first lie is the change of course by three degrees instructed by the Dnepropetrovsk-based controller. The Dutch Safety Board does not state any course correction instructed by ATC. The pilot of MH17 requested a slight change of course due to weather.
This animation shows the MH17 route from 8 July till 17 July.Clearly the same route.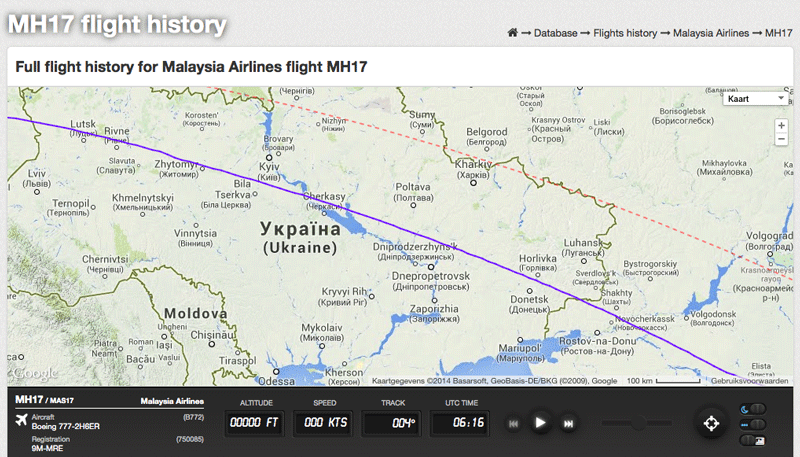 Also nonsense is the unlawfull handover. Why would the handover to another air traffic controller of another ATC area (Flight Information Region /FIR) be unlawful? Airspace over Ukraine is divided into several areas or FIR. For the simple reason a single air traffic controller is not able to handle all flights over Ukraine. Another reason could be logistics, political and technical. In Europe for example flights above a certail altitude are not controled by the country ATC but by Eurocontrol.
UkSATSE is  Ukrainian national provider of air navigation services. Four ATS area control centers (Kyiv, Lviv, Odesa and Dnipropetrovsk) were created for providing of air traffic control service, approach control service, flight information service and alerting service of air traffic in the airspace of Ukraine.
The area of responsibility of Kyivcenteraero Regional Branch covers 185,834 sq. km. The air traffic service height range is from the earth level to 20,100 m.
Dnipropetrovsk Flight Information Region (FIR) covers an airspace area over the south-eastern part of Ukraine and over a part of the Black Sea waters and amounts to 285 517 sq. km. The air traffic service height range is from the earth level to 20,100 m. Source
The Dutch Safety Board preliminary report mentioned the handover from Kiev ATC to Dnipropetrovsk. Nowhere it  states this was illegal.
by