Limited damage to cockpit suggests missile exploded around 15 meters in front , left and just above cockpit
by
Pictures made during the recovery of the cockpit could indicate that a missile exploded about 15 meters in front and just above the cockpit. Damage observed to the area just behind the cockpit on the lefthand side of the fuselage at the belly of the aircraft is very limited to none.
The image below shows the distribution of fragments of a SA-11 BUK missile. It seems MH17 and mostly the cockpit area was hit by a part of the area indicated by 1.
This image shows an indication of the area hit most by the missile
The well known photo of the area just below the lefthand side of the cockpit window shows many impact holes.
The area below the cockpit shows limited  damage. This part shows the angle of attack probe which is just below the left cockpit window. There are some clear damages visible to the fuselage suggesting objects coming from above the cockpit
The top of the cockpit shows some moderate damage.
The above there pieces of debris combined in a single photo
The photo below shows the part near the nose cone as extra. The area between the two yellow lines is completely gone.
At an airforce base in the Netherlands the cockpit of MH17 is being reconstructed. These photos were taken early 2015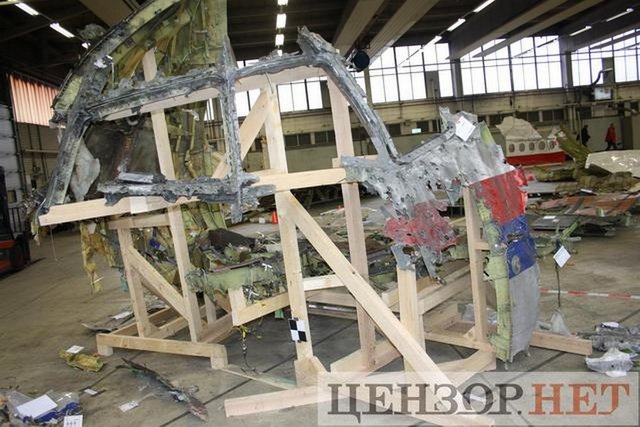 The part below is close to the nose of the aircraft.
The cockpit floor and pilot seats show some quite a few holes caused by shrapnel
The area just behind the cockpit windows on the left hand side
The area just behind the cockpit on the lefts side  shows limited damage.
The fuselage behind the first door hardly shows damage which could haven been caused by a missile. Damage observed is caused by decompression and by debris hitting eachother during the 10 km fall to earth.
This is a part of the area between the first and second door on the left (L1 and L2, STA529 and STA655)
One of the rings in front of the engine has some clear damage. This is likely the left engine .
The nosegear door does not show any damage
by