Evidence that MH17 was shot down by a surface to air missile
by
There is a lot of indirect and direct evidence for  a surface to air missile with a fragmention warhead as the cause of the shot down of MH17.
Most independant specialists on missiles are sure MH17 was shot down using a missile. Even former Russian Air Force general (and head of the Russian air force) Peter Deynikin said that is must have been a BUK. Ria Novosti article in Russian here Ria Novosti is a mouthpiece of the Kremlin so not some sore of vague conspiracy agency.
For example watch this video of defense analyst Reed Foster from IHS Jane's who explains the damage must have been caused by a missile
So what is the evidence?
<Update May 3 2015>
added news of found BUK parts by RTL Nieuws
added news of Dutch forensic expert George Maat who identified MH17 bodies and talked about a missile
Dutch RTL Nieuws journalist Jeroen Akkermans visited the MH17 crash site many times. During one of his visits he found severall pieces of metal. He took those with him and had this analysed by several experts. They concluded some of the parts where part of a BUK SA-11 missile. Read the story here. Original story published by RTL Nieuws here.
George Maat is a famous well respected forensic expert. He identified victims of Tsunami, the planecrash in Tripoli. He identified bodies of the MH17 crash while being retired. He did a couple of presentations for mediacal students which he believed were not open to the public. He told the audience the aircraft was hit by a missile. RTL Nieuws reports about this in April 2015. Dutch Police said some of the statements were incorrect.
Many, different sized  holes in parts of the aircraft, mainly around the lefthand side of the cockpit. Some perfectly square holes in the floor of the cockpit. These holes are not made by a 30 mm bullet.
This photo shows the fragments which are part of the warhead of a missile typically seen on SA-11 systems. Notice the square, cubicle and butterfly shaped steel fragments. The photo on the right shows at the left a hole which is almost square.

Also the place of the holes are not likely to be caused by machine gun. The holes in the cockpit are made from objects coming from above. It is impossible for a Su-25 or any other type of fighter to shot downwards. Especially because the Su-25 is not able to fly at the altitude MH17 was flying. Mind the square hole in the cockpit floor.

The composition of closeup photos of different holes in the cockpit floor were made by Eliot Higgins . The different shaped holes makes it very unlikely that bullets have produced this kind of damage. Bullets come from a fighter plane which has a relative position to Boeing 777 of Malaysian. It is impossible to explain the different sized holes to different sized positions of a fighter aircraft.
This photo shows the size of a 30mm bullet used in A10 anti-tank aircraft. Su-25 has a similar role to destroy tanks. See source of photo here.
The damage due to a lot of heat to the cockpit front. When a SA-11 BUK missile explodes a lot of heat is generated. This caused the paint at the  very front of the cockpit to completely disappear as this photo shows. The cockpit did not burn when it hit the ground so the disappearance of the aircraft painting cannot be explained by a fire on the ground.

The wounds of the co-pilot. This picture shows  the co-pilot (likely) who was still strapped into his seat when the cockpit section landed. His stomach has several wounds. Now I am not a docter nor a forensic expert on wounds but these wounds look a bit small to me to be caused by 30mm bullets.
The photo is here. It is not too much graphic as the head of the pilot cannot be seen.
A video was released in November showing the crash scene minutes after MH17 crashed. Someone on the video talks about a rocket. See this post for more information.
The extent of the damage. The cockpit section was completely separated from the rest of the fuselage. It would be impossible to do that with bullets.
 Nikolai Ivanovich Kozitsyn, longtime leader of Russia's Don Cossacks, admits in a Vice interview that a missile shot down MH17. He also admits he was the person in the leaked telephone conversation. (see pooint 24 later on).

Confirmation of multiple military analysts of SAM damage to MH17. 

 

Justin Bronk of the Royal United Services Institute

, 

Douglas Barrie of the International Institute for Strategic Studies

 and 

Reed Foster of Jane's IHS. Justin Bronk in this interview explains why the damage observed is consistent with a BUK SA-11 system.
German manufacturer of surface to air missiles MBDA is pretty sure the shot down has been caused by a missile (Der Spiegel) (Eindhovens Dagblad)Some other experts

Vladir Babak, the chief designer of the SU-25 said a R-60 is too light to destroy a Boeing 777. He also said a SU-25 could not shot down MH17 at that altitude. The sU-25 would crash if it used its weapons at that altitude. Babak said that already on July 28 here at aex.ru. German main news Tagesschau reported about Babak on March 10. The statements were the same.
IHS Jane's Missiles & Rockets editor Doug Richardson here
Reed Foster works for IHS Jane's, a defense consultancy firm. He is certain a missle was used.
Former Russian Air Force general (and head of the Russian air force) Peter Deynikin asserted to Russia's RIA Novosti that it was an SA-11 ("Buk"), and not an air-to-air missile. Published by ria Novosti from Russia
Justin Bronk is a Research Analyst with the Military Sciences programme at RUSI. His research interests include airpower, land warfare, regional territory disputes, insider attacks, Psyops and nuclear weapons policy. He send a Tweet "#MH17 fuselage from port side cockpit section showing heavy shrapnel damage consistent with SA-11 hit"
Nick de Larrinaga, a defense analyst at London-based think tank IHS Jane's, echoed that point, saying that medium-altitude SAM missile systems such as the 9K37 Buk (also known as the SA-11 'Gadfly') or the S-300 (aka SA-10 'Grumble) "could all have been used in this scenario.
Stephan Fruhling, a ballistics specialist and senior lecturer at the Australian National University Strategic Defence Studies Centre in Australia said ""This very much looks like damage from a fragmentation warhead"
John Blaxland, who is also at the ANU Strategic Defence Studies Center said "Those tiny fragmentations looks just like the surface-to-air SA-11 to me."
Douglas Barrie of the International Institute for Strategic Studies, said the photographic evidence "was consistent with the kind of damage you would expect to see from the detonation of a high explosive fragmentation warhead of the type commonly used in a SAM system" (Source Financial Times)
German manufacturer of surface to air missiles MBDA is pretty sure the shot down has been caused by a missile (Der Spiegel) (Eindhovens Dagblad)
Douglas Barrie of the International Institute for Strategic Studies, said the photographic evidence "was consistent with the kind of damage you would expect to see from the detonation of a high explosive fragmentation warhead of the type commonly used in a SAM system"
Professor Ian Horsfall of Cranfield University says it is likely caused by fragments of a warhead in the BBC documentary "Inside Out". It can be seen using BBC iPlayer here. Horsfall was also inteviewed by Australian TV program 60 minutes.

Powder residue / black 'dust' (caused by the explosion) on many parts of the fuselage. This is a picture of the tail but there are many other parts. These parts were found lonely in fields. No traces of fire. Here is another photo.

The plane blackboxes both stopped at the same time. This indicates massive force was used. The Cockpit Voice Recorder and Flight Data Recorder are both situated in the back of the aircraft. 


Power to the recorders comes via the Main Equipment Bay which is located below and behind the flight-deck. MEB remnants were seen in the same wreckage cluster as the flight-deck indicating they separated at the same time.

The preliminary report does not mention any sighting of a military aircraft near MH17. So the theory that a fighterjet shot down MH17 can be ruled out.
 A BUK system seen in the area and photographed and filmed by a couple of people. Not only Ukraine people. The BUK could have been a Russian one as claimed by Bellingcat. This is a citizen journalist website managed by Eliot Higgins. This video compares a photo of a BUK in Donetsk made on July 17 with a BUK photographed while being transported to the Ukraine-Russia border. It is a perfect match. Read the complete story and how perfectly the match is here.
a video showing the minutes after the crash has recorded talking of people. One of the people says:


A man on the phone says "it's probably that. Because a guy shot at it, and they hit it. They hit it," and the  cameraman responds, "so they didn't bring [it] in vain, right? [Laughs]," indicates that these men may not be simple witnesses. Does the statement  "because a guy shot at it" from the man on the phone (who is he talking to?) suggest a certain level of familiarity with what just took place? Does "they didn't bring [it] in vain" refer to the Buk missile which is the weapon which most likely brought down this aircraft? Were at least some of these videos taken by journalists who were working with the Russian-backed militants and so knew that an anti-aircraft missile was used to take down the aircraft?

eyewittness telling about an explosion (as seen on Paris Match video). A BUK missile explodes close to its target and spreads fragments. This eyewitness is also telling about another plane which initially flew next to the Boeing 777 and then overtook it. A video showed MH17 when the main fuselage hit the ground. Only then a fire broke out. The cockpit section which separated from the fuselage earlier did not burn at all. So it is save to assume while in flight there was no explosion caused by the fuel of the aircraft.

Another eyewitness told Reuters: she heard  "an enormous bang like an earthquake" (Independant). Reuters has another eyewitness. 

"There was a howling noise and everything started to rattle. Then objects started falling out of the sky," the 65-year-old pensioner said in front of her grey-brick home.

Rebels admitted to a report of Italian newspaper Corriere della Sera  they had shot down and aircraft and were ordered by their commander to arrest the pilots. 
Ultranationalist Sergei Kurginyan bragged that an electronics specialist was sent to repair a Buk anti-aircraft system for the separatists in Donetsk. (Interpretermag.com). The video is here. 
A photo showing what could be smoke of the launch. See a detailed proof of the location at Ukraine@war This is not a strong proof. The weather at the time of the crash was cloudy. Here we see an almost 100% blue sky. This is the weather as published by the Dutch Safety Board
25 metal objects found in bodies of crew (Telegraaf). That is quite a few to be from bullets alone.
A NATO AWACS surveillance aircraft registered SA-3 radar activity. SA-3 radar would be using the same frequency as SA-11
Minister Timmermans of Foreign Affairs told during the tv show Pauw that "the passengers did not see the missile coming in' Does the minister know already the aircraft was hit by a missile?

Why would the rebels block access to the crashsite the first two or three days? If they had nothing to hide they would allow the independant OCSE access.
Why was the Dutch team responsible for recovering the bodies not allowed to do investigation on the aircraft? They wanted to use cranes to look for bodies. This was not allowed. Also the usage of dogs, divers and drones was not allowed. Source newspaper De Stentor
Other aircraft have been downed in East Ukraine before. Mostly by manpads but at least the Downing of the Antonov 26 at July14 looks like to be downed by a BUK missle. See this post which says it must have been a heavier missile than manpad. Both pilots were killed in this crash. So discredits a report that pilot said it was downed by air to air missile. See a video of te An-26 going down here. So there was a reason to down aircraft over East Ukraine. Source Wikipediaimage below from Wall Street Journal
 A taped conversation between rebels telling about a passenger aircraft they shot down. (source CNN). The US ambassy in Kiev stated this tape was authentic.


Audio data provided to the press by the Ukrainian security service was evaluated by Intelligence Community analysts who confirmed these were authentic conversations between known separatist leaders, based on comparing the Ukraine-released internet audio to recordings of known separatists. 

Russian television station Lifenews reported initially an Antonov 26 was hit by a missile in the neighborhood of Torez. Also Sputniknews reported about an Antonov shotdown as reported by eyewitnesses. They saw a missile. Also a report by Interfax.
The rebels said they would control the airspace over East Ukraine now they had a BUK stolen from Ukraine. See this article at Russian site Vesti. Other news articles confirming the rebels had a BUK 

TAR-TASS June 29th: 

Donetsk defence forces take control of army unit equipped with missile defence systems


NTV June 29th:

Donetsk militia today got a major weapon for combating air strikes. This Ukraine website states the commander of the A1402 Unit which had its base near the airport of Donetsk did not protect its base and equipment for the separatists. The translation says: Recall that according to the militia, they counted on the territory of an anti-aircraft regiment of at least 20 air defense missile systems "Buk" and 9 mobile radar "the Dome."
The deleted post of Strelkov bragging about shot down of Antonov 24 (csmonitor and many others
Ukraine rebel commander Alexander Khodakovsky of the Vostok battalion, acknowledges fighters had BUK missile (Reuters). The next day he denied he spoke about BUK in the interview and had audio tapes to prove it (Russia Today). However, Reuters published the audio tapes. See and hear it here.


The eyewitnesses report in the BBC programme Panorama  and by Associated Press. Both saw they saw a BUK in East Ukraine in the city of Torez. The crew spoke Russian with Moscow accent.
Here is what that dispatch said: "An Associated Press reporter on Thursday saw seven rebel-owned tanks parked at a gas station outside the eastern Ukrainian town of Snizhne. In the town, he also observed a Buk missile system, which can fire missiles up to an altitude of 22,000 meters (72,000 feet).
AP journalists saw the Buk moving through town at 1:05 p.m. The vehicle, which carried four 18-foot (5.5-meter) missiles, was in a convoy with two civilian cars. The convoy stopped. A man in sand-colored camouflage without identifying insignia — different from the green camouflage the rebels normally wear — approached the journalists. The man wanted to make sure they had not recorded any images of the missile launcher. Satisfied that they hadn't, the convoy moved on.
New York Times initially reported about two eyewitnesses who saw a rocket. Later the story was modified and the eyewitnesses story was deleted. However some other website tooks over the initial story. 

Ria Novosti reports about an eyewitness stating seeing a missile, The report says a Antonov was downed. That is what initially was believed. However it turned out to be MH17. The news was also covered by Itar Tass 
Eyewitnesses told Associated Press they heard one or two blasts. (businessinsider.com)

The fact that the pilots did not sent out any distress call. They could not see the launch of the missle because of clouds. Also it took a few seconds from launch to hit the aircraft. See the DSB Preliminary report.
Earlier in July several aircraft of Ukraine Air Force where shot down. Most are believed to be caused by manpads but at least the downing of an Antonov 26 is likely to be caused by a BUK SA-11. See this article.  This article says the rebels claimed a BUK shot down an Antonov in July . Also this article claims a BUK was used,
This video shows a recording of a Zello communication between people living in the are of MH17 crash site. People tell about a missile lauch. It is impossible to verify this video for being fake or not. Zello is an app for smartphones which allows to use a smartphone as a walkie talkie. Anyone can listen to the conversation. Ukraine@war has a post about this video.
More Zello conversation on the downing http://www.youtube.com/watch?v=ciorE4yLViw and http://www.youtube.com/watch?v=C410Fagx3b0 and http://www.youtube.com/watch?v=K4z2r9DfeVI and here http://www.youtube.com/watch?v=fONtQEaSmto
34. The US Embassy in Kiev released an impression of the trajectory of the missile. The launcher must have been near the city of Snizhne.
35 NATO general Breedlove told at a pressconference at June 30 that people were trained on the usage of vehicle-borne capability weapons. So much more heavy than MANPAD's. A video of the briefing can be seen here. At 06:10 Breedlove talks about heavy weapons.
Q: General, Luis Martinez with ABC News. If I could go back to the question about the tanks, what impact are you seeing tactically from these vehicles on the western side of the border? And when you talk about anti-air, are you talking about MANPADS? And how do you assess that level of training?
GEN. BREEDLOVE: Okay. So we haven't seen any huge, drastic tactical impact of these vehicles. Clearly, in the situations that — where they have been used by the separatist forces, they have a very — what I would call a decided tactical impact right at that moment. But as far as an operational impact to what's happening in the east, nothing to speak of yet.

We don't know whether the first two shoot downs were MANPADS or vehicle-borne missiles. Again, I like to report when I have facts, so I will just tell you that we're not — we haven't tied that string completely together as to which was used in which situation.

Q: (OFF-MIC) The level of training you're seeing on the eastern side, does that involve MANPADS? Or is that vehicle-borne?

GEN. BREEDLOVE: We have not seen training of MANPADS, but we have seen vehicle-borne capability being trained.
While a full investigation had yet to be completed, US Secretary of State John Kerry  said there was no doubt about the type of weapon used and where it had come from.
'We saw the take-off, we saw the hit, we saw this airplane disappear from the radar screen, so there is really no mystery,' he said.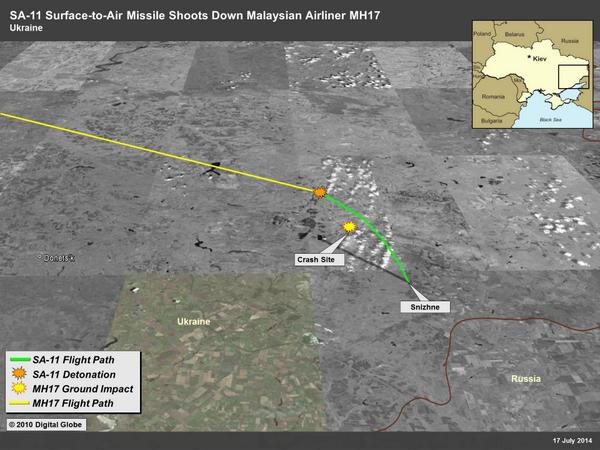 The Russian Defence Ministry released satellite photos showing BUK systems positioned in East Ukraine. The Russian claims Ukraine BUK were in the range of MH17.
So lets have a look at the range. A BUK M1 SA-11  system on standalone mode has a range of about 35 km. The map below shows a range of 35 km from the spot the aircraft Flight Data Recorder stopped. This 35km  is a direct flat line between two points on a map. The distance the missile had to fly is actually longer as it has to climb. Each and every pressrelease of the Russians mention a BUK M1 system so it safe to assume Ukraine does only operate the BUK M1.  The M2 which is called SA-17 has a longer range.
When the map with the 35km range is combined with a map showing the area occupied by the rebels it is clear it is not possible for a Ukraine BUK M1 to shot down MH17.
This is probably the reason Russia put focus on the shot down by Su-25 story.
The map below shows the areas occupied by the rebels. DNR = Donetsk People's Republic and LNR = Luhansk People's Republic. This website is the source for the map.
Then the Secret Service of Ukraine (SBU) responded.
Then the  Russian Defence Ministry presented this analysis of satellite photos. Strangely enough the original location is not available anymore so I used webarchive.org
At September 13 Russia press agency Ria Novosti published an article titled Russian Air Force Commander General Deynekin: BUK Downed MH17
Former Russian Air Force general (and head of the Russian air force) Peter Deynikin asserted to Russia's RIA Novosti that it was an SA-11 ("Buk"), and not an air-to-air missile, that brought down MH-17. 
Some blogs tried to debunk the missile story. All stories are completely incorrect. For example this story of a guy who writes he has worked for ATC. He claims the crew in the cockpit must have noticed a missile appraoching the aircraft as all aircraft has CAS (he means TCAS). The crew would get an alarm. How wrong. TCAS operates using transponders in aircraft. A missile does not carry such a transponder and the TCAS in MH17 will not notice a missile.
There are some questions to be asked about the missile theory.
Why did the US not release any intelligence info about the lauch of a missile. No satellite photos, no radar signal monitoring. Nothing at all. It is extra strange as in 2001 the US released intelligence that Ukraine shot down a passenger aircraft using a S-200 surface to air missle.
The same can be said of the Russian Ministery of Defense. They did not provide prove of Ukraine launching a missile.
Why has the location where the missile laucher was positioned not been identified? There should be burn marks. Except one journalist who did find some spots.
If the BUK that has been photographed a couple of times indeed was used to shot down MH17, why did it take such a detour? The launch location is very close to the Russian border. Was the intention to fake the BUK was a captured one of Ukraine? Was this the reason it was not covered during transportation? If it was covered it could suggest it was Russian.
Two passenger aircraft flew quite close to MH17. There has not been a single eyewitness report of the crew nor passengers about an explosion.
The US Defense has many sources for monitoring military activity: both planes like AWACS and RC-135V/W Rivet Joint reconnaissance aircraft 
While AWACS main task is to monitor aircraft in a large area, the RC-135 is specialised in monitoring communications of people and commnications used in military devices like surface to air missiles. A NATO AWACS was flying over Romania when MH17 crashed. I have no information if RC-135s were active.
Some of the US intelligence satellites
MASINT

Space-Based Infrared System

Space Tracking and Surveillance System

Trumpet (satellite)
by