Dutch police confiscated pieces of metal, a piece of bone, videos, photos and equipment of journalists who went to crash site.
by
Two Dutch freelance journalists , Michel Spekkers and Stefan Beck, visited Eastern Ukraine in beginning of January 2017 to make a documentary on the situation there. Michel Spekkers went alone to the MH17 crash site and entered a barrack in which wreckage of MH17 is stored. Spekkers found bones which could be of passengers  and initially stored it in a barbage bag. Later, when news broke out of his finding, he placed the material in sealbags.
See my blogpost with background info and context on the finding.
Spekkers and Beck at January 6 left Eastern Ukraine to Moscow. In Moscow they  flew to Warsaw and then to Amsterdam Airport.
Dutch police contacted Spekkers on January 6. Spekkers and police agreed to meet upon arrival at Schiphol airport to hand over the wreckage and bones.
At the handover the police was filmed by one of the journalists. Also secret audio recordings were made by one of the two. Spekkers refused to hand over video recordings and photos he made at the crashsite.
Police requested Beck to hand over the pincode of his mobile phone, which he refused.
At Schiphol airport Dutch police not only took the metal parts and a piece of a  bone, but also all videos, photos both journalists made in Eastern Ukraine. Including material not related to MH17 and recordings of anonymous people both spoke to. Additionally police confiscated an Acer laptop, a videocamera and a Nokia mobile phone.
It is remarkable that journalist Jeroen Akkersmans was not hassled at all by Dutch police when he removed a piece of metal from an aircraft part and had it researched without telling police.
The Dutch prosecution service released a pressrelease on Sunday morning about the confiscation. It is listed here. A translation in english is provided later in this article.
Below the report made by Dutch police mentioning the confiscated material which belongs to Beck.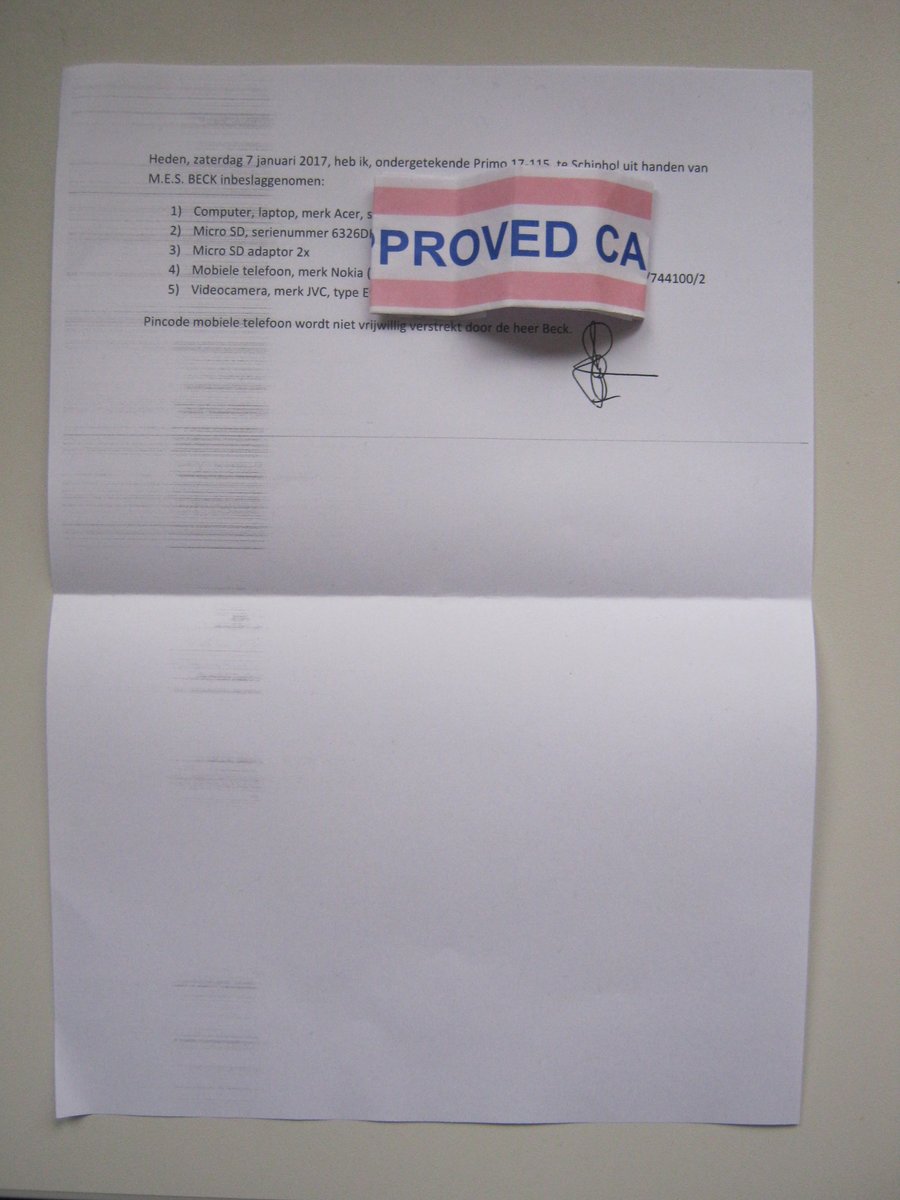 The response of the Dutch prosecution service to the next of kin is shown below:
Yesterday evening journalist Spekkers has arrived at Schiphol Airport. It was agreed upon that he would hand over the items that he had gathered from the crashsite to the police. At Schiphol it appeared that a co-traveler had checked in the bagpack of Spekkers under his own name. Spekkers refused to hand over photo- and video images of the crahssite.

It seemed possible that not all items that could be relevant for the investigation, were going to be hand over voluntarily. It has therefor been decided to confiscate all luggage of Spekkers and his co-traveler.

Several sealbags with possible metal fragments have been collected out of that luggage, as well as one piece of a bone, that might be related to a victim. These items were found in the aforementioned bagback of Spekkers, that had been checked in on the name of his co-traveler.

The items that might be related to MH17 will be investigated forensically as soon as possible. All data carriers of both men have been confiscated.
Spekkers and Beck met in Eastern Ukraine another freelance journalist named Graham Phillips. Phillips reports about the situation in Eastern Ukraine from the viewpoint of the Russian Federation. He made this statement about the confiscation of the media by Dutch police.
Spekkers is member of the Dutch society for journalists NVJ. The NVJ is in contact with police about the confiscation. What I understand is that NVJ contacted the investigative police (recherche) and requested to seal the video, photo and other equipment. In the Netherlands by law police can only investigate such media when a judge has given permission to do so.
Dutch media started to report about the confiscation around 12:00 on Sunday. This is Dutch Telegraaf article. Omroep Brabant mentions Spekkers tried to smuggle MH17 remains.
Spekker had a long video interview with Omroep Brabant. He responds to the pressrelease of the Dutch Prosecution Service. Spekkers was met by about 5 people. Three of the Joint Investigation Team and two of the Dutch Military Police. Some refused to tell their name. Spekkers denies that his compagnon Stefan Beck made video recording of the meetup between Spekkers and the police. Spekkers confirms he made audio recording of the talk between Dutch police and him.
The story of Stefan Beck is documented by Dutch Haarlems Dagblad.
Michel Spekkers told his story on his personal blog here.  The story of Stefan Beck is here.
by