Bellingcat uses assumptions to make claims instead of irrefutable proof!
by
Update May 29, 2018
As conspiracy believers in May 2018 sent out Tweets using this blogpost showing Bellingcat is wrong, some clarification needs to be done.
In a May 24, 2018 press conference JIT stated it has enough evidence which shows Russian army transported a BUK TELAR from its base in Kursk to Eastern Ukraine. This BUK TELAR was involved in the downing of MH17. So while at the time of the Bellingcat report Bellingcat jumped to conclusions about the presense of the BUK in Millerovo, two years later those conclusions turned out to be proven.
---
In the Bellingcat narrative Russian BUK number 3×2 was transported in a military convoy from its home base in Kursk via border town Millerovo and via Donetsk to its launch position south of Snizhne.  The convoy left Kursk at June 23, 2014.
The convoy consisted of mainly vehicles of the 2nd battalion of the 53rd anti-aircraft brigade . Bellingcat made a nice overview of the route.
BUK 3×2 is the BUK which according Bellingcat, based on photos published by Paris Match, was used to shot down MH17.
However, there are no photos nor videos which confirm BUK 3×2 was near the Russian/Ukraine border town of Millerovo, despite several claims by Bellingcat.
The author did  four attempts to get a comment from Eliot Higgins on why he states BUK 3×2 has been in Millerovo without photo or video confirming that claim. However Higgins decided to not respond to request from the author.
So I tried to get an answer from one one of the anonymous authors of Bellingcat, the Dutch guy called Daniel. I had a long discussion on Twitter. Again I asked: why does BC claim BUK 3×2 was in Millerovo while there is no photo proof?
I did not get an anwer other than 'it is logical BUK 3×2 was in Millerovo'. Another response from Daniel was  the reply shown below meaning something like:
As I already said: 'if there is a cactus in a wood, it does not mean there is no wood'
Daniel Romein, Bellingcat, January 28 2016
Probably for Bellingcat it is also logical BUK 3×2 went first all the way West from the Russian border to Donetsk, then back Eastwards to Snizhne. Then after shot down of MH17 North towards Luhansk. It would be more logical to cross the border south of Snizhne, shoot and go back the same route.
Bellingcat has  a strange way of logical thinking. Or is it wishfull thinking?
Back to the BUK 3×2 route.
BUK 3×2 was last seen on video in the Russian  city Alexeyevka which is an estimated 350 km drive from the town which Bellingcat claims BUK 3×2 was last seen.
The reasoning for Bellingcat to conclude BUK 3×2 must have been at border town Millerova is that vehicles that were seen in the same convoy in which BUK 3×2 was part of (350 km from Millerova) , where spotted near Millerovo in a convoy .
That is like police  accusing someone of a crime because he was seen with his criminal friends a week before the crime in a totally different place than the crimescene.
MH17 and the killing of 298 innocent people needs a serious investigation based on irrefutable evidence. 
It is possible the convoy split up in Alexeyevka. A part of the convoy continued their way heading to Millerova. A part could including BUK 3×2 could have returned to their base. One of the reasons to leave the base and return was that Putin put the army on a high alert. The convoy could be a training mission to check how quickly it was able to hit the road.
A user with nickname Rob made an interesting comment at the Bellingcat website about the weird convoy movements in Alexeyevka.
The convoy was seen in Gorodishche [Coordinates: 51.137286, 38.064599]. But in doing so, it will approach Alexeyevka from the North, and it would be almost impossible for the convoy to go through the Magnit store intersection in Alexeyevka, which you would only get through if you were to approach Alexeyevka from the south.The Magnit store intersection is seen in this video.
Nobody knows the whereabouts of BUK 3×2 since it was last seen in Alexeyevka!
Bellingcat reasoning explained
One of the BUK vehicles seen in the convoy leaving Kursk was a BUK command post. This had serial number 200 painted  on the side. The same BUK serial 200 was seen in a video made near Millerovo.
The reasoning of Bellingcat is: if BUK 3×2 and BUK 200 were seen in the same convoy leaving their base, and if BUK 200 was seen in Millerovo, BUK 3×2 must have been as well in Millerovo!
Without photo/video proof this is jumping to conclusions.
The serial numbers of 53rd Brigade vehicles
The 53rd Brigade is made up of three battalions: the 1st, 2nd, and 3rd. The 1st and 2nd battalions were active in the summer of 2014, while the 3rd Battalion was used for training students and conscripts.
The number seen on most of the BUK and support vehicles is such that it can identifiy the battalion and  battery the vehicle is used by.
The first digit is the battallion, the second is the battery and the last digit is a sequence number. BUK 312 for example belongs to the 3rd batallion, 1st battery. The number 1,2 and 3 of the last digit is always assigned to a BUK TELAR launcher.
BUK 3×2 is the only vehicle seen in the convoy which belongs to the 3rd battallion. All other vehicles belong to the 2nd battallion (the first digit always starts with a 2). It is remarkable BUK 3×2 is the only 3rd battallion vehicle in a convoy of the 2nd battallion.
Each battallion has 9 BUK TELAR launchers, a command post vehicle , a Snow Drift radar and supporting vehicles like cranes to load missiles on the TELAR launchers.
The image below shows a command post registered with number 200. This makes it the command post of the 2nd battallion. This command post vehicle was part of the convoy documented by Bellingcat.
Overview of 4 Bellingcat claims  that BUK 3×2 was seen in Millerovo
Claim 1: Bellingcat claims in this post written by Eliot Higgins:
"One of a series of videos that shows a convoy containing the Buk linked to the downing  MH17 was reportedly filmed near the town of Millerovo"
Claim 2: Bellingcat repeats its claim ("BUK 3×2 was seen in Millerovo") in a report titled Tracking the Trailers: Investigation of MH17 Buk's Russian Convoy
Claim 3: Also in this PDF  titled "the open source evidence" Bellingcat suggests BUK 3×2 was in the town of Millerovo.
claim 4: Article written by Eliot Higgins here.
However  there is no sign of  BUK 3×2 in Millerovo!!
This post written by Veli-Pekka Kivimäki and  published at Bellingcat confirms BUK 3×2 was not seen in the Millerovo video.
When the author of one of Bellingscat's report was asked how BUK 3×2 is linked to Millerovo this is the response.
As you can read in the beginning of this post: I tried to get an explanation for the claim from Daniel Romein and Eliot Higgins.
The video made in Millerovo which does not show BUK 3×2
Below a screenshot and the actual video made near Millerovo.
This was the (confirmed by photo/video ) route of the convoy BUK 3×2 was part of.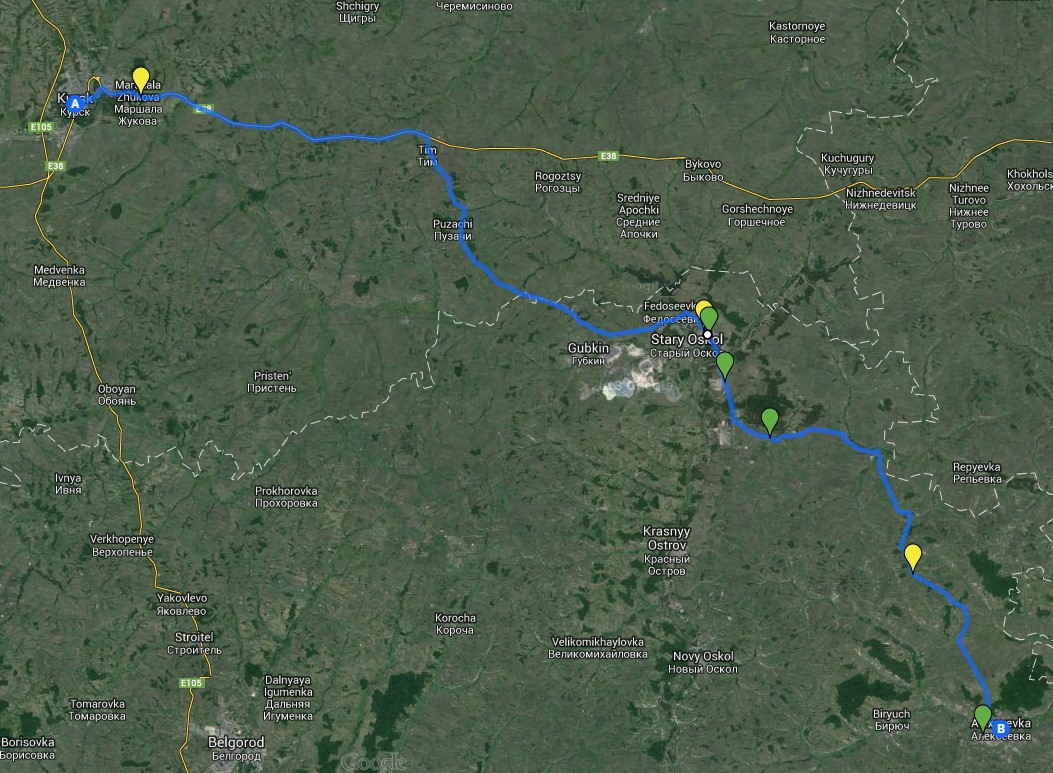 Gabriele Wolff has some more details on the lack of proof  here. 
Below is a list of video's of the convoy.
Neznamovo
 http://bellingcat-vehicles.silk.co/page/0017-Neznamovo%3A-Buks-on-trailers-near-gas-station
Filmed at Neznamovo on June 23rd = http://www.youtube.com/watch?v=c4Pigqq8A74
Buk 3×2 at 0:01
Stary Oskol area
http://bellingcat-vehicles.silk.co/page/0003-Troitsky%3A-Buk-convoy-making-a-turning
Filmed on June 23rd.
https://www.youtube.com/watch?v=r_zQVxMc4zo
Buk 3×2 at 0:20 and further
http://bellingcat-vehicles.silk.co/page/0004-Stary-Oskol%3A-Buk-convoy-rides-into-town
Original: Odnoklassiki, published June 25th  http://ok.ru/video/13856344715
Buk 3×2 at 2:01
http://bellingcat-vehicles.silk.co/page/0013-Stary-Oskol%3A-Buks-on-trailers-filmed-from-pavement
Original = Andrey Cherkashin http://vk.com/video2967252_169073239
June 23rd, Buk 3×2 at 0:15 until the end of video
http://bellingcat-vehicles.silk.co/page/0012-Stary-Oskol%3A-Buk-3×2-on-a-trailer
Original = Pavel Prolubnikov = http://vk.com/video60637013_168861884
https://www.youtube.com/watch?v=i2MNraWgubs&feature=youtu.be&t=1m6s
June  23rd, evening.
Buk 3×2 from the beginning of the video.
Alexeyevka area
http://bellingcat-vehicles.silk.co/page/0020-Alexeyevka%3A-Buk-convoy-turning-and-merging-1
Original = Evgen Krinichny, posted 24-06-2014
http://vk.com/video135321380_169811617
Buk 3×2 at 6:14-624
http://bellingcat-vehicles.silk.co/page/0021-Alexeyevka%3A-Buk-convoy-turning-and-merging-2
Published on Sept. 8th. at: https://www.youtube.com/watch?v=1A5MpuNGH1k
Buk 3×2 at 6:22-6:42
http://bellingcat-vehicles.silk.co/page/0022-Aexeyevka%3A-Buk-convoy-south-and-out-of-town
Original = Alexander Kleshnev, posted 25-06-2014
https://vk.com/video91220754_168802710  Buk 3×2 at 0:52
Then there's also a large format photo of the BUK, which was posted on VKontakte on June 24th, also from Alexeyevka area:
https://pp.vk.me/c618131/v618131910/998d/NtAx_E_cFSo.jpg
It was part of this post: https://vk.com/wall-62387983_26806
After this there are no more traces of Buk 3×2.
by