Corrected! Award winning investigative journalism by CORRECT!V MH17 has many mistakes!
by
CORRECT!V (from now on I use Correctiv)  is a German nonprofit investigative newsroom in the German-speaking world. The goal is to give citizens access to information. One of Correctiv investigation was on the downing of MH17.
While Correctiv is financed by donations to enable independent journalism, this blog will expose many errors made by Correctiv in its MH17 research.
I prepared this blog a while ago. Today, January 15 2017, Facebook accounced it will use Correctiv for factchecking news. This is a response by Correctiv on the news. When I read this, I was really shocked.
The purpose of this blog is not to discuss the cause of the shot down. I am convinced MH17 was shot down by a BUK missile. Correctiv came to the same conclusion.
The purpose of this blogpost is to expose the really bad way Correctiv performed their investigation. Despite the proven errors Correctiv was awarded by two organizations for the MH17 investigation. This shows the level of subject knowledge by (German) journalists on MH17.
Making mistakes is one, discussing and correcting is another. Many people contacted Correctiv to point out the clear errors. Correctiv did not want to discuss and did not correct, despite this statement by Correctiv.
CORRECT!V corrects mistakes.
Content of this blogpost
The content of this post will go into:
what kind of organization Correctiv is;
how is it financed;
the investigation on MH17 done by Correctiv;
the errors Correctiv made in the MH17 investigation;
the awards Correctiv received for the MH17 investigation which is full of errors;
the objections of people to that errors and the lack of response by Correctiv;
the response of German main stream media to the Billy Six and Graham Phillips visit to the Berlin office of Correctiv;
the response of the German medienrat on a letter of complaint by Billy Six
What kind of organization is Correctiv?
Correctiv is a German non-profit organization which does investigative journalism for mainly the German public. It  is independent and  does not rely on advertising. The core principle is writing about what is wrong! Corruption, abuse of power, that kind of topics.  In total around 16 journalists write investigative stories for Correctiv. An example of such an investigation by Correctiv is a July 2016 article which shows the medicine industry pays doctors for prescribes their medication.In 2015 575 Million Euro was paid by the indusrty to  71.000 Germany doctors.
How is Correctiv financed?
Correctiv is mainly financed by grants. Mostly non-profit organizations give money to Correctiv to be able for them to perform investigative journalism.
The main financer of Correctiv is German Brost-Stiftung. In 2015 it donated almost 1,5 million Euro to Correctiv.In total Brost Stiftung will donate three million Euros spread out over the first three years of operation.
One of the main reasons for Brost-Stiftung to donate money to Correctiv is that the main stream media has a hard time to defend democracy. It is a fact the regular media have very little money and resources to do investigative journalism. There is a lot of competition , many areas to cover and consumers are getting used to free information via channels like social media.
Besides grants Correctiv earns a relative small amount of money by selling books.
A full overview of donaties and salary of the Correctiv management can be seen here.
Donation by Dutch Persgroep to Correctiv
According the website of Correctiv it received Euro 5000,- in 2015 from De Persgroep BV. Dutch newspaper Algemeen Dagblad (AD), part of Persgroep,  cooperated with the Correctiv investigation on MH17. When asked AD reporter Jeroen de Vreede about this payment his comment was:
Persgroep participates or donates as largest publisher in the Netherlands often innovative ways of journalism. (like Blendle, Paper, Topics and Follow the Money). Correctiv was interesting for donation as the cooperation with AD on the MH17 research was done well. This donation of Euro 5000 was an one-off donation.
Cooperation with Algemeen Dagblad and Der Spiegel
In cooperation with  Der Spiegel and Dutch newspaper Algemeen Dagblad, Correctiv  did an investigation on the downing of MH17. The investigation was done by Marcus Bensmann and David Crawford.  Algemeen Dagblad reported in January 2015 the results of the Correctiv investigation. Algemeen Dagblad did not pay for this investigation.
Der Spiegel reported about the results of the Correctiv investigation  here.
Besides a publication on the website of Correctiv plus a story in Algemeen Dagblad and Der Spiegel,  Correctiv also published a book on MH17 titled  'MH17 the search for truth'
An overview of the errors and unverified claims  made by Correctiv
In the MH17 investigation report Correctiv made many errors. Some were adjusted, most are still in the report, two years after the publication of the report!
Let us start with a list of the errors and unverified claims. Then I will discuss each error in detail and provide evidence for the error.
Stating Ivan Krasnoproshin was in active military service
incorrect conclusion of the location of the launch site
initially Correctiv stated a Tupolev was shot down by a BUK. Later corrected to a S200
Incorrect quoting of Harry Horlings
Correctiv states a BUK missile is launched from a fireproof container. Never corrected
speaking to eyewitness who cannot have heard a BUK missile launch
The claim that Ukraine used civil aircraft as human shield
Claim the BUK was filmed in the afternoon of July 17, after it shot down MH17 (later corrected)
Besides all these errors, there is another issue with Correctiv and that is the way the organization communicates with criticasters. Several people like Billy Six, Max van der Werff and me contacted Correctiv. They never wanted a discussion about the errors. On Twitter and Facebook these people are blocked.
Error 1: Stating Ivan Krasnoproshin took part in downing of MH17
Correctiv states that a Russian sergeant was discharged in June 2014 from active service in the Russian army. This is suspicious as it was rumoured that this was a trick of Putin so he could say "there are no Russian soldiers active in Ukraine". However, as a logbook clearly reveals, this sergeant left military service in June 2013.
Correctiv writes the following about Ivan Krasnoproshin
A sergeant of the 53rd brigade who is particularly active online posted numerous pictures of his unit on his page on Vkontakte (vk.com), the Russian clone of Facebook. The sergeant's name is Ivan Krasnoproshin. Among his pictures is a photo of a document reporting his discharge from the Russian army in mid-June. The photo showing a page in his unit's logbook lists the names of the soldiers reporting for the evening roll call. Number one: Sergeant Krasnoproshin, followed by 13 privates. Every day is crossed off. The last entry is on June 13th. Then there is a hand-written note behind Sergeant Krasnoproshin's name: "Discharged due to completion of service period according to order no. (illegible)."
Indeed, according to the logbook, Sergeant Krasnoproshin was not the only member of his unit to be suddenly discharged from the Russian military on that day. Three additional soldiers in Sergeant Krasnoproshin's unit—including Sergeant Krasnoproshin nearly one third of the unit's members—were discharged on the same day and for the same reason.
In the middle of June, several days after Krasnoproshin and his comrades were discharged, the long convoy of the 53rd air defense brigade made its way towards Ukraine. Again someone posted a photo in a social network. Again we can see the same BUK launcher 3*2.
There is little doubt: it was the 53rd Russian air defense brigade from Kursk that took position in Snizhne in eastern Ukraine on that fateful afternoon.
However this photo suggests Krasnoproshin left the military service in June 2013. Long before MH17 was shot down.
The image below shows a screenshot from a Dutch NOS television item on Bellingcat. It shows the name of Krasnoproshin on the first line in both Cyrillic and Latin alphabet. Bellingcat used photos from Krasnoproshin for its research into the route of the BUK from Kursk.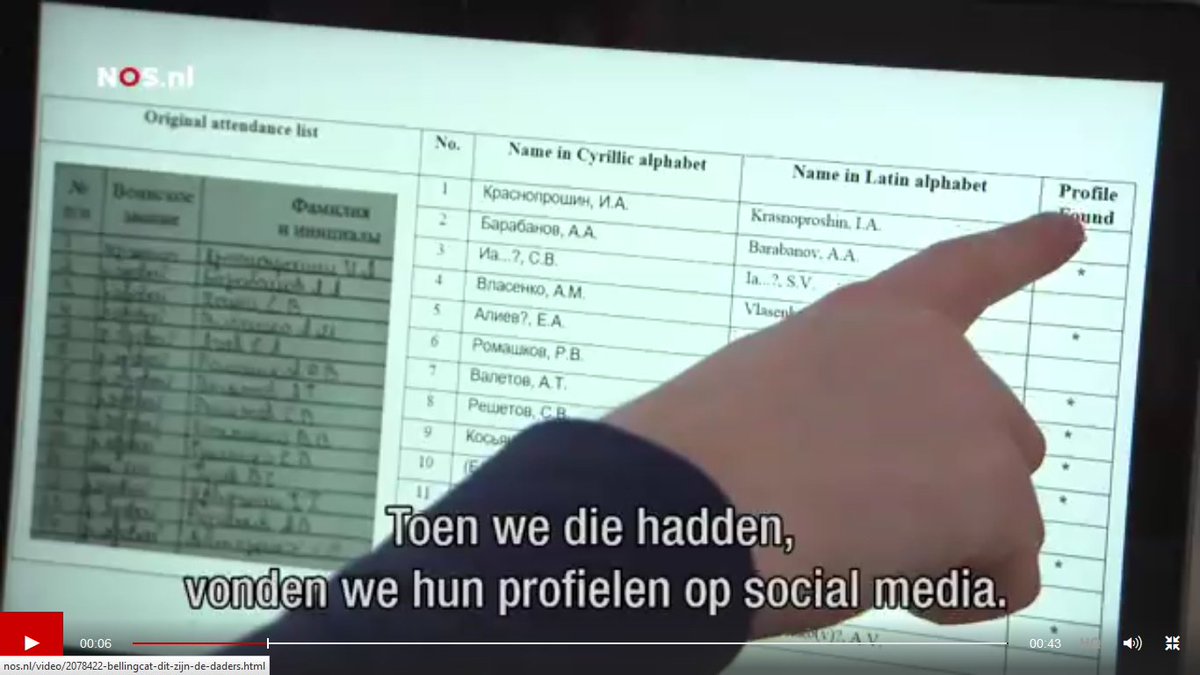 Error 2 : incorrect conclusion of the location of the launch site
Correctiv went to a small village just north of Snizhne called Puschkinsky. They spoke to a couple of people living in Puschkinsky who stated they heard a big noise caused by the missile launch on a field nearby. A second eyewitness stated he even saw the launcher which launched a missile.
Joint Investgation Team on the September 2016 press presentation  made public the missile was launched from a field south of Snizhne. Many kilometers from the location Correctiv had described.
It is unclear why Correctiv went to Puschkinsky for their investigation in the first place. There could be two reasons. First of all website Meduza reported about a place north of Snizhne in an online article which was later removed. An other reason for Correctiv to search in Puschkinsky could be a Zello conversation. Zello is a popular mobile phone app which allows real time voice communications similar to using a walkie-talkie. Website Ukraineatwar reported about a tapped Zello conversation in July. Someone stated in that conversation that she had seen a missile plume near the KhimMash factory. This factory is a few hundred meters from Puschkinsky.
Correctiv concluded solely on the interviews with very few people living in  Puschkinsky  that the BUK missile was launched from a field nearby.
When  Correctiv spoke to eyewitness in Puschkinsky,  Correctiv  could have known about a much more logical possible launch location south of Snizhe. Days after July 17 a photo was published showing a smoke plume. At July 21 blog Ukraineatwar geolocated the location of where the photo was made.
Correctiv completely ignored this location. It did not visit the area to speak to eyewitness. Other journalists from newspapers like The Telegraph, NRC, NOS and Volkskrant did talk to eyewitness. Many stated the saw a missile flying. JIT in 2016 told the press this area was indeed the launch area.
Error  3: speaking to eyewitness who cannot have heard a BUK missile launch
Correctiv  interviewed an eyewitness in Puschkinsky who stated he heard a missile launch. He also claimed grass on a field close to his home was burning . However from investigation by German blogger Michael Kobs the eyewitness did not point to a field where the BUK could have been launched from, but to the MH17 crash site.
The eyewitness also told the tiles on the roof were vibrating. This seems very unlikely to have been caused by the impact of MH17 to the ground. Snizhne is too far away from the Hrabove.
Error 4: incorrect quoting of Harry Horlings
Harry Horlings is quoted by Correctiv as a  former Dutch fighter pilot. Correctiv did not state it talked to Horlings. Algemeen Dagblad reporter Jeroen de Vreede had an interview with Horlings.
Billy Six had an interview with Harry Horlings to discuss the quotes of Horlings used in the Correctiv investigation. Horlings states that a better name for Correctiv would be 'inCorrectiv'.
Error 5: Correctiv states a BUK missile is launched from a fireproof container
Besides these big errors, Correctiv made some smaller, easy to avoid, errors. For examples in the report Correctiv states a BUK is launched from a fireproof container.
"The missile is launched out of a fireproof container, leaving few visible burn marks on the ground; the launch vehicle in turn leaves marks on the ground that are identical to those of a tank."
That is obviously wrong. See photos of BUK TELAR launchers and any person with none expertise on missiles notices a BUK missile is not launched from a container.
The only BUK system which uses containers is the BUK-M3. This version is used by Russia only but still very limited. It is impossible based on the photos we have seen that such a BUK M3 was used to down MH17. Also the DSB report is clear about that.
I approached Correctiv several times about this error. I once got a reply from Bensman. However there was no discussion about this error and Correctiv still did not correct the error.
Billy Six, a German freelance journalist,  contacted Correctiv four times by email and many times by phone with questions. Howver Mr. Bensmann of Correctiv claims: "Correct is that Billy Six didn´t ask us a single question regarding our research."
Error 6:  Correctiv claims Ukraine used civil aircraft as human shield
Correctiv suggests Ukraine Air Force used civil aircraft as human shield.
Civil air traffic granted Ukrainian fighter pilots valuable seconds in their fight for survival against BUKs. Ukrainian fighter jets have the ability to hide just beneath passenger planes without the civilian passengers and crew even knowing of their presence.
At the moment of writing this blog there is not a single proof Ukraine fighterjets used civil aircraft as a human shield. Probably Correctiv used a statement by a woman with pro separatists attitude who told this on a video published on Youtube. The woman later married to a separatists leader.
Error 7: speaking to eyewitness who cannot have heard a BUK missile launch
See later in this post.
Error 8 Stating the BUK was filmed on July 17 after it shot down MH17.
In the original report by Correctiv it was stated:
AFTER THE MISSILE LAUNCH
The BUK was filmed again late in the afternoon of July 17th 2014. This time a missile was missing. The BUK is on its way down the street N21, in Luhansk, a city close the the Russian border.
Later this error was corrected by deleting the sentence. It can still be seen at Webarchive.
According the SBU, the BUK was filmed in the early afternoon of July 18 in Luhansk.
 Awards given to Correctiv
Despite the many errors in the report, Correctiv received two awards for their investigation on MH17:
The jury of the Grimme award wrote "Correctiv did a great investigation and edited it very well." The jury commends this project as an outstanding example for the merger of digital storytelling methods with traditional journalistic skills.
The text below is the translation by Correctiv of the jury verdict:
Through extensive research the authors were able to reconstruct the alleged downing of the passenger aircraft. They have reconciled and verified existing evidence from various sources with facts on the field. Multimedia elements were put to good use in order to make an interesting story plausible to tell."
We read texts like  "verified existing evidence" and "extensive research"
The errors described in the above paragraph proof there has not been extensive research and verification of evidence.
Criticasters of Correctiv
Not everyone was impressed by the work of Correctiv. Almost every citizen journalist who spent time of MH17 stated Correctiv made many errors. An overview of these people:
Billy Six
Graham Phillips
Max van der Werff
Michael Kobs
Gunnar Jeschke who wrote a blog at Freitag.de.  Der Freitag publishes online daily, as well as weekly in print. It has a syndication agreement with the British newspaper The Guardian, publishing a number of German translations of Guardian content in every issue. The political alignment of Freitag is  social liberalism
Marcel van den Berg (this blog)
Harry Horlings was wrongly quoted by Correctiv. Horlings called Correctiv inCorrectiv
Arnold Greidanus, a Dutchman who did intensive investigation into MH17, called Correctiv a fraud.
The only person who is a bit positive on Correctiv is Bellingcat's Aric Toler. See this conversation on Twitter.
@MaxvanderWerff @correctiv_org They did a good job, but had two incorrect points: method of launch missile, and launch location.

— Aric Toler (@AricToler) September 20, 2015
German Michael Kobs did a lot of investigation on MH17. He wrote an article about Correctiv
Max van der Werff visited the small village Puschkinsky himself. His blog about the visit can be read here. Max concluded the eyewitness who claimed he saw the launch of the missile, pointed in the wrong direction in the video published by Der Spiegel. Max spoke to the person who lives in the house indicated by Correctiv as the house of the witness. The man called Alexander told Max he did not ever talk to Correctiv and did not see a BUK missile launch.
Visit to the Correctiv office by criticaster
In August 2016 UK freelance journalist Graham Phillips and German freelance journalist Billy Six visited the office of Correctiv in Berlin. Beforehand Correctiv requested Phillips to ask his questions by emails. He prefered however to visit the office. He started to shout that Correctiv  are media liars. The staff of Correctiv requested Six and Phillips to leave the office and stop filming. The duo left the office but the filming was not stopped.
Billy Six explains in this video his side of the story.
The result of the visit was a lot of attention in German press. Deutsche Welle (DW) had an interview with Chistian Humborg, executive director of Correctiv . Tagesspiegel has an article about the visit of Phillips and Six here.
Billy Six is another criticaster. He even sent a letter of  complaint to German Press Council for the investigation done by Correctiv.Six also contacted the Ethics Council of Correctiv. Furthermore he contacted the society of Grimme Award with a request to strip Correctiv  from their award which they had received in June 2015. He never got a reply!
This video in German language tells all the issues with correctiv
So what are the issues of Six and Phillips?
Billy Six wrote a Facebook post about his issues.
Harry Hornings, a former test pilot, was quoted in the article of Correctiv.  Hornings told Billy Six he never spoke to Correctiv. Also some of his statements were incorrectly quoted by Correctiv.
Algemeen Dagblad and Correctiv in response responded that AD spoke to Horlings. The text of the interview was used by Correctiv. So indeed Correctiv did not talk to Horlings, something was never said by Correctiv.
Graham Phillips asked Correctiv by email why they did not release the recorded interview with the eyewitness who claimed he saw the launch of the BUK missile (source). Correctiv did not want to answer the questions because of the visit of Phillips and Six to the Correctiv office. Below the response of Correctiv to the questions of Phillips.
Did Correctiv talk to Harry Horlings personally and why did Correctiv quote him saying a jet could not have downed MH17?
What are the evidence for Correctiv statement Russian army invaded Eastern Ukraine?
Is Correctiv prepared to return the Grimme-award?
How is Corretiv financed?
Billy Six went personally to the village reported by Correctiv as being the location where the missile was fired from. He 

spoke with 14 witnesses, two of them knew Bensmann. Nobody confirmed the story published by Correctiv. 

Six asked  Bensmann personally to listen to the "original audio" having the interview with the single eyewitness who claimed to have seen the launch, but he refused
Max van der Werff published the following issues:
Max states Correctiv fabricated the eyewitness report. (source). For example the eyewitness shown in this video stated to Van der Werff he did not see the launch
Max van der Werff requested Correctiv many times about the launch location. They never replied. (source). Correctiv blocked Max van der Werff in Twitter.
I have some issues with the quality of Correctiv as well.
Correctiv states a BUK missile is launched from a fireproof container. That is not the case. I contacted Correctiv several times. They did not correct the error.
Correctiv responded to the Billy Six video here.
Correctiv Ethikrat
The investigative work of Correctiv is assisted by the so called Ethikrat. This is an advisory board which main task is make sure that Correctiv the high ethical basic principles of investigative journalism respects to  support of a democratic culture. I requested Christian Humborg, at that time head of Correctiv, for contact details of the Ethikrat. I never got an anwers. Humborg now works for WikiMedia Germany.
The response of the German medienrat on the letter of Billy Six
Russia Today Germany had an video interview with Billy Six on the incident at the Correctiv office in Berlin. He told he wrote a letter to the German medienrat to complain about Correctiv. The medienrat responded they could not act to the complain as they believe Correctiv is not part of the regular media,

Russia Today requested Marcus Bensmann for comment. Below his comment. Interesting to know that Correctiv will factcheck for Facebook.
by