An overview of possible BUK launch locations
by
The possible launch location of the BUK missile is yet unknown. Severall eyewitnesses report different locations.
Lets provide an overview of the possible launch locations.
Basically there are three possible launch locations reported:
1. West of the small village Red October/South of Snizhne. This location was first geolocated by Ukraineatwar based on the photo showing a plume of what could be a BUK missile. Months later RTL Nieuws reported about this location as well.
2, Area between Saoer Mogila, Saurivka and Stepanivka. This is hardly reported by media. Dutch newspaper Volkskrant and TV station NOS talked to several witnesses and these claim the missile originated near Stepanivka. (and  not from the RTL/Ukraineatwar location which is a few hundred meters from where those eyewitnesses live)
3, Area near the village of Zarochenskoe. This area is not part of the area indicated by final DSB report. However Almaz Antey states the BUK must be fired from here.
The locations below are proven to be wrong.
1. Chernukhino
2.  A field field just north of Snizhne. Reported only by German investigation bureau  Correct!v. And printed by Dutch newspaper Algemeen Dagblad and German magazine Der Spiegel. DSB final report did not mention this as a launch site.
The map below shows these three possilbe positions.


1. West of Red October and South of Snizhne
This location was determined by blogger at Ukraine@war based on the photo of a smoke plume. The photo was made by an inhabitant of Torez.  Ukraine@war could not determine the exact launch location. His blog is here.
The area is was  controlled by separatists at July 17.
Journalist Roland Oliphant went to search for the exact location of the launch based on the geolocating done by Ukraine@war. He did find an interesting spot. The ground was partially burned. Ukraine@war has a blog about this. Oliphant did find a piece of plastic what looks like to be military.Based on the logo People on internet found out the name of the company who produced the plastic . The plastic could not be connected to a BUK. Most likely it is used in MLRS GRAD type of rocket systems.
The soil was partly burned. It is not uncommon for farmers to burn the ground in spring.
At July 22 the US Embassy in Kiev released an image showing the trajectory of the missile based on SBIR (Satelites using Infrared to detect missile launches) data. The launch location is very close to the location determined by Ukraine@war.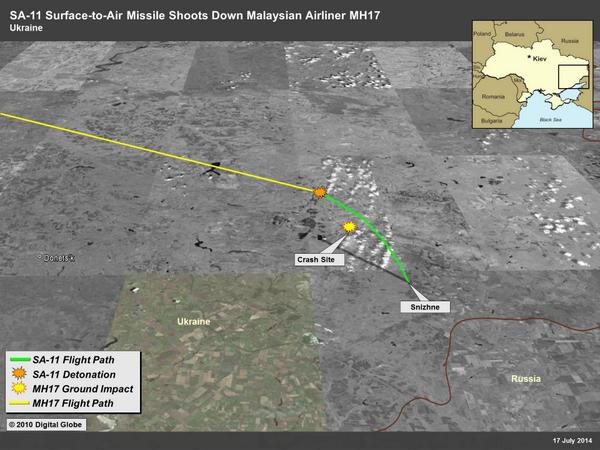 At December 22 RTL Nieuws reported about the photos of the smoke plume and showed a new, previously unknown photo of the plume. That one was taken seconds after the first one. RTL had the photos investigated and came to the same conclusion about the launch spot.
At January 22 Bellingcat published a detailed analyze of information on the launch location.
2.
3. Area between Saoer Mogila, Saurivka and Stepanivka
This area is mentioned by quite a few witnesses yet not a single media spent much attention to it. The intereting aspect of this launch location is that it could be controlled by Ukraine army at July 17.  It is about 30 km away from the location where MH17 was hit by a missile.
Lets see what witnesses say:
1. Witness 1 is a woman. She  most likely lives in a small village south of Snizhne called Chervonyi Zhovten' Червоний Жовтень. This is translated to Red October. Locals call it Beregis. Her conversation on Zello (a popular walkie talkie app on mobile phones) was recorded. Ukraine@war has the conversation here.
The Dutch NOS news and newspaper Volkskrant went to East Ukraine to follow the trail of the BUK. The report can be read here.  They went to the village Pervomais'kyi Первомайський which is a couple of 100 meters East of the launch spot described by all media as the mosty likely one (East of Red October, south of Snizhne).
However none of the eyewitness who saw the missile point towards the South of Snizhne spot (RTL/Ukraineatwar). They all (the article does not mention the number of eyewitnesses but at least 4 different ones are mentioned) point towards a location southeast of Pervomais'kyi near Stepanovka.
De Volkskrant reports about a witness who told the missile was launched from Saoer Mogila.
Reuters published an article at March 12. Reuters spoke to severall inhabitants of Chervonyi Zhovten (Red October).
One of then,  Anastasia Kovalenko, 14, said she saw a rocket flying over the village. Olga Krasilnikova, 30, also said she saw a rocket, some time between 4 and 5 p.m. "I saw it was flying, flew right over me. From that side," she said, pointing to the outskirts of the village . "I saw smoke in the sky, then I heard an explosion and I saw a huge blue (cloud of) smoke."
Taken together, the accounts do not conclusively prove the missile launched from near Chervonyi Zhovten was the one that brought down the airliner, because none of the villagers saw it actually being launched.
Pyotr Fedotov, a 58-year-old resident gave a Reuters reporter directions to a field 1.5 km from the village, which he said had been identified to him by local farm workers as the point from which the missile battery had launched the rocket.
Volkskrant also went to Tsjervony Zjovten (Chervonyi Zhovten' Червоний Жовтень or Red October). A skinny man reports he was working on a field and saw a missile overflying. He states the missile was launched from behind Saoer Mogila
 4. 
Chernukhino
Ukrainian authorities have released what they say are intercepted phone conversations between pro-Russian separatists and what appear to be Russian military officers saying that separatists shot down Malaysia Airlines flight MH17. The recording (BBC) says:
[Male voice, captioned as "The Greek" ] Yes, Major.
[Major] Well, the Chernukhino lads shot down the plane.
[Greek] Who shot it down?
[Major] From the Chernukhino roadblock. The Cossacks at Chernukhino.
Location is around here  48°19'35.29″N  38°29'38.06″O
5. Field just north of Snizhne
Detectives of German bureau Correct!v went to Eastern Ukraine. They talked to inhabitants of Snizhne. A few people living just north of the village Snizhne said they heard a bang originating from the KhimMash  factory (Химмаш in Russian)
The location is here at Google Maps ( 48° 3'32.74″N  38°45'5.96″O).
The full report is here.
The area is was  controlled by separatists at July 17.
This location is very unlikely for various reasons. Only Correcti!v reported this site. Correct!v is not known for being a specialist. They report that a BUK missile is located in a container. This is simply incorrect.
The missile is launched out of a fireproof container, leaving few visible burn marks on the ground; the launch vehicle in turn leaves marks on the ground that are identical to those of a tank.
Max van der Werff discovered a photo taken minutes  after the crash. It was taken from the north of Snizhne. It does not show a BUK missile plume.
The photo overlooks a major part of the field Correct!v claims the BUK was launched. The origin of this photo is interesting.
Arnold Greidanus did some research.
The photo was first posted on a Russian forum by someone called  Anna Vatavu at April 13 2015:
http://mh17.webtalk.ru/viewtopic.php?id=216&p=27#p18183
She says the photo was handed over to her by a witness. No EXIF info available.
Anna Vatavu also has a Twitter accouunt  (@AnnaVatavu ) with the same name. She is in touch with Max van der Werff.
Starting March 24 her account was changed to @A_Grokholskaya
At april 2 the account was suspended. Anna lives in London where she studies. She is from Russian origin.
https://www.linkedin.com/profile/view?id=269841070 & https://www.facebook.com/grokholskaya?fref=ufi
She does not seem to be neutral or innocent. It does not say much about the photo but keep this in mind.

by